Technically it is illegal to stop one's car on the shoulder of a highway to daven. It is considered very dangerous, and the shoulder of the highway is only there for emergency use - when one's car breaks down, for example. That generally does not stop people from pulling over as sunset approaches so that they can daven mincha, though perhaps that is considered enough of an emergency to warrant using the shoulder...
Rav Grossman of Migdal Ha'Emek had asked the operators of Highway 6 to find a solution and station a mobile structure that could be used as a makeshift shul for drivers to be able to pull over and daven. It was set up by a rest stop between the Baka and Iron junctions.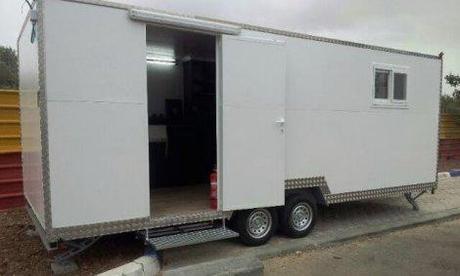 The operators of Road 6 worked to get the necessary approvals and to set it up, and this week it was put into place. And very soon after the structure was put up it was used for its first minyan. Kvish 6 operators promise that soon they will fill it with sifrei kodesh for use by travelers, and then it will be open and available 24 hours a day.
I am pretty sure that shortly after that a kollel will be opened and use the structure, for the safety of the drivers..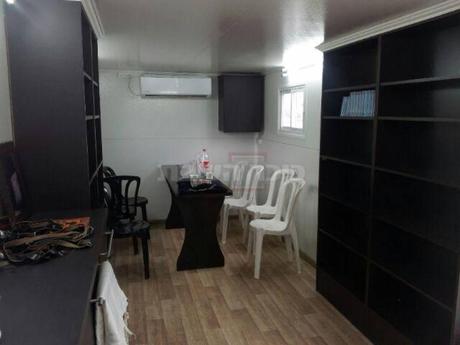 Udi Savyon, the director of Derech Eretz - the operator of Kvish 6, said that he will soon be setting up another such structure in the southbound direction, for the benefit of travelers on that side of the road. As well, they will soon be installing signs and directions to the shul, so drivers will know how far they are from the shul...
Rav Grossman thanked Derech Eretz for the shul and blessed the installation of the shul saying that travelers need the prayers to arrive at their destinations safely, and there is no doubt that this shul will provide protection for the road and for those traveling on it.
(source: Kikar)
A good name for the shul would probably be "Tefillat HaDerech"...
------------------------------------------------------ Reach thousands of readers with your ad by advertising on Life in Israel ------------------------------------------------------