This is interesting on so many levels. First, the kids waltzed up the Brooklyn Bridge undetected, despite a plethora of cameras and herds of patrolling terror cops. Turns out the video is too blurry and doesn't have facial recognition capability. Okey dokey then. Thanks for the million$.
Second, I get the joke. I mean, it
could
be that the suspects, four skateboarding teens, planted a white flag to make a statement that we must surrender. But I think they are making a statement that we HAVE surrendered. As a nation. Here is the story. It is still unfolding.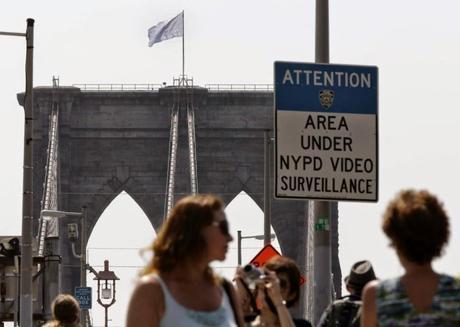 Skateboarder, friends sought by cops in Brooklyn Bridge flag switch
A skateboarder and four young pals emerged Wednesday as the unlikely suspects who eluded around-the-clock NYPD security to scale the venerable Brooklyn Bridge and raise two white flags. While cops had no real leads in the second day of their probe, the five youths wanted for questioning were described as in their late teens or early 20s, a source told the Daily News. There's still no explanation for the removal of two U.S. flags or the bizarre substitution of two bleached-white American flags left flying above the bridge's two towers Tuesday. New Yorkers on the bridge amid ramped-up security Wednesday were still wondering how anyone could reach the top of the two towers on the 131-year-old landmark without detection. "It's crazy that someone was able to do this when there are all these cops around," said Kristen Ames, 30, who walks across the bridge to work every day.
Millions of Manhattanites and Brooklyners awoke to white flags on top of the most iconic NY landmark in the city and one of the most identifiable landmarks in the world. I understand that this might have cause a great deal of fear on the minds of those who lived through the worst ever terror incident on our soil the September 11, 2001 Islamic attacks.
But I think it is more of a teenage prank joke. Putting a white flag up to bring a visual to what we all already know: our nation's president has caused this nation to capitulate. At least that's how I read it.
It got me thinking about flags and banners. I recently posted a story about how the American Embassy in Israel
hoisted a homosexual rainbow flag in support of Gay Days in Tel Aviv
. That sparked outrage and anger in the US and abroad.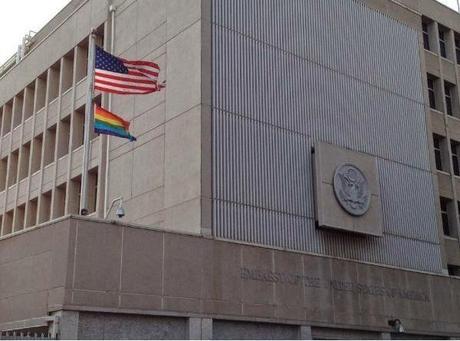 Flags mean things. They are a potent symbol.
When my husband and I lived aboard our sailboat, we had anchored in the James River in Virginia, near William and Mary College. It was an out of the way anchorage, far upriver, and not many cruisers made it up there. We thought we had the anchorage to ourselves, until we heard a cannon shot! I was the Tall Ship HMS Rose, a training Tall Ship. They came in gangbusters. They circled us, downed their national flag and hoisted the pirate
Jolly Roger
. We got a huge kick out of that. They were probably training the cadets on rope work. We saw them scrambling up and down and everywhere. They shot the cannon once more and then re-hoisted the national flag and headed back downriver. It happened so fast we thought it was a mirage! That was twenty years ago but I still get a chuckle from remembering it.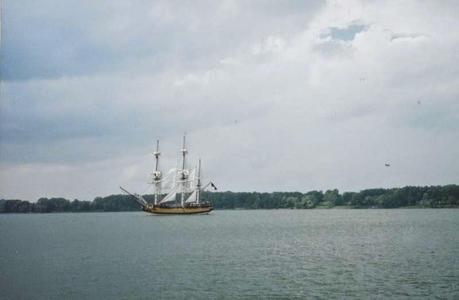 HMS Rose hoisting the Jolly Roger
Back in pirate times though, if a ship downed its national flag and hoisted the Jolly Roger, you knew you were in for the fight of your life, literally. You fought and maybe died, or you surrendered and definitely died. The Jolly Roger struck fear. It meant something.
Who doesn't feel a certain amount of national pride in thinking of the American flag planted on the moon? I do.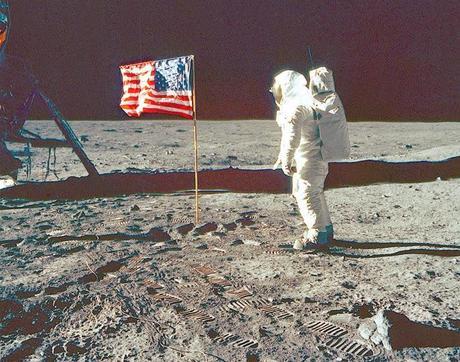 Source- Times Herald
By our flag you know who we are. Back in when I was traveling to Europe a lot, I noticed a decline in affection for Americans between 1990 and 1998. By the end of the decade, Americans were sewing Canadian Maple Leaf ensigns on their backpacks and luggage, in hopes of getting better service at the least, and to avoid a fight at the most.
A white flag on an important landmark like the Brooklyn bridge, and BTW an important piece of infrastructure, is a signal, whether the teens intended it to be or not. They perhaps performed a prank, or maybe something more intentional. They haven't been caught and brought to justice yet so we don't know. But a white flag means surrender. Has America surrendered? I believe so. Many fine Americans are still willing to fight for our liberty, but if our national life blood is in the hands of the top officials, then yes, I do believe we've surrendered.
How I wish the nation would surrender to Jesus, how I wish the capitulation would really mean that every knee is bowing and every tongue is confessing. I pray that almost every night. I pray, "Lord, will tomorrow be the day that every knee shall bow and Your name shall be lifted in glory?" I can't wait for that.
God spoke to Moses. He told Moses to tell the Joshua and the Israelites that He purposed to utterly blot out the memory of Amalek from under heaven.
And Moses built an altar and called the name of it, The LORD Is My Banner
(Exodus 17:15)
The Hebrew word in this verse for banner means "a standard, ensign, signal, sign." Right now on earth there are a multitude of flags for 193 nations, a number of emblems, like the perverted rainbow flag, and banners galore. There is even a Christian flag. But someday there will be ONE Leader, ONE banner, ONE symbol. We will all identify under it, the cross, and our Leader is Jesus. Everyone who surrendered to Him before death will be given white, this time meaning the righteousness of Jesus imputed to us.
What a day that will be.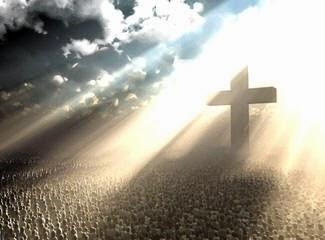 Source