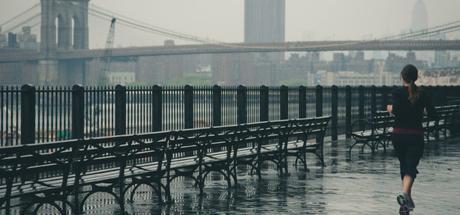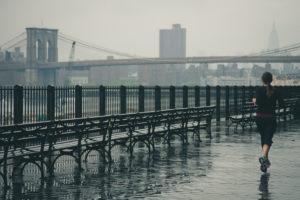 Whether it's for work or leisure, you can use technology to help you stay healthy while traveling. From getting the proper rest, eating healthy, exercising and overall well-being, here are a handful of technologies that will work to your advantage during your next trip.
When you travel for vacation, it's usually a time you've set aside to relax. If you're working while you travel, it can actually be extremely hard to relax and catch up an any sleep. Whatever the case may be, getting the rest you need is crucial to your health and being able to function properly both mentally and physically. To ensure enough sleep during your travels, pack a NightWave in the suitcase. It's a pulsing blue LED light that guides you into a relaxed pre-sleep state, which helps you drift off into deep slumber. Science backs it too-its features are based on cognitive behavior therapy techniques for relaxation. So when you've been running around for a company conference and all you want to do is calm your overactive, adrenaline-pumped mind for some shut eye, rest assured this gadget will get you in the mood to snooze.
Maintaining good nutrition isn't the easiest when you're traveling. When you're constantly on the move, you tend to grab whatever's quick and easy. And when you're trying to explore a different city or country's specialty cuisine, the last thing you're thinking about is how many calories you're about to intake. The good news is that there's an app to keep track of your diet while you travel. Download MyFitnessPal for easy nutritional tracking. All you have to do is put in a quick search of the type of food you're eating and plug it in. The app does the rest for you by inputting the calorie count along with macro and micro nutritional content like fat, protein carbohydrates, vitamins and minerals. This way you can prevent going overboard by maintaining awareness of what you're eating and keep trim as you travel.
Just because you're traveling doesn't mean your regular workouts need to dwindle. Make sure to pack some Jabra Sport Pulse earbuds next to those running shoes. These headphones have built-in trackers that monitor your activity and vitals. Your runs are recorded into its corresponding app and personalizes a guided workout based on heartrate and fitness goals. Further pair with those earbuds and your run with one of Tomtom's GPS-enabled fitness watches, especially when you're running in foreign territory. Not only is the technology connected to reliable satellites, keeping you informed of where you're actually trailblazing too, it also tracks changes in body composition, like the body's ratio of muscle to fat.
If you're simply just trying to maintain overall well-being as you travel, there are numerous smartwatches that'll keep track of your vitals. For retired folks vacationing 24/7, one of the best fitness trackers for seniors is GreatCall's Lively Wearable. These senior fitness trackers offer multi-faceted features like tracking daily step count and encouraging mind exercise challenges, as well as a button that connects users to urgent response care and medical attention in case of emergencies. By wearing the Lively Wearable, users keep peace of mind that their well-being is being watched over even while they travel and are away from home.
When you uphold good health, good travel will follow. These aforementioned tech gadgets and apps will keep you in tip-top shape as you proceed with your time away from home.
Guest Author: Jennifer Thayer is a freelance writer who enjoys covering everything from the hottest tech gadgets to the latest industry news. Follow her on to see what tech coverage she shares next.