Hi Huneybees,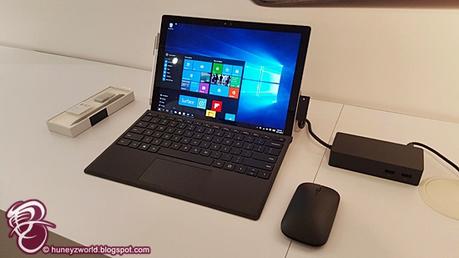 This might come a little delayed as this launch happened last month, admit I'm tardy when it comes to updating posts, so bear with me as I try to pick up my pace again and stride with this growing world of technology.

As our demand for faster, multi-tasking gadgets & devices gets higher and higher, we are seeing brands coming up with more products and one that was launched recently was the Microsoft Surface Pro 4.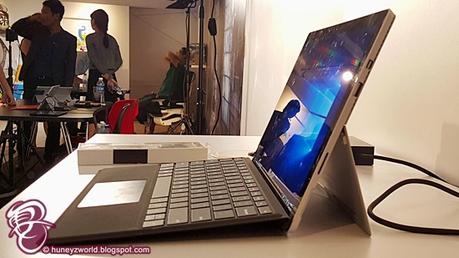 The Surface Pro 4 is light and easy to carry around and with the signature kickstand that flicks out at the back, this is the tablet star that has been popping up on our TV recently. It have been spotted on US Drama "Scorpion" and even HK Drama "爱.回家", where its flexibility and usability is showcased under the spotlight.
Upgrading from the success of the Surface Pro 3, the 4 version features an Intel Skylake chip, together with faster SSD speed and a new Type Cover Keyboard, to push the performance level even higher, so that tasks can be done in "lightning speed".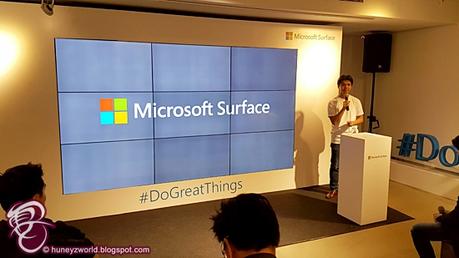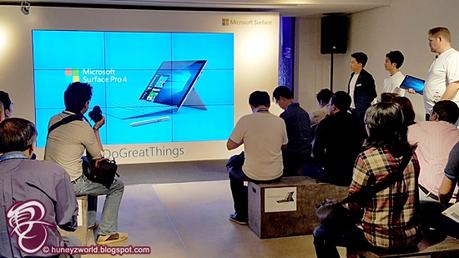 This light (0.78kg) and thin (11.5 x 7.93 x 0.33 inches) comes with stunning 12.3 inch PixelSense Display and 3:2 aspect ratio for comfortable viewing and with the exceptional performance  using the 6th Generation, Intel Core m, Core i5 and Core i7 processors, you can run your full Windows 10 Pro (the Surface Pro 4 is the first device to include Windows 10 from the get go) system at ease and 3D works will definitely not be lagging your system.  #DoGreatThings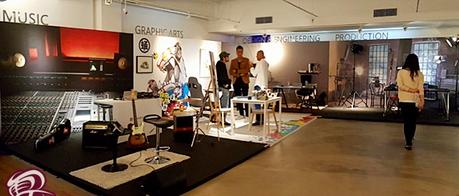 Multitasking is not a problem as you can run apps and desktop programs like Microsoft Office side by side, allowing you to maximise productivity with portability. As shown to us at the launch, we were shown that heavy graphics, soundbites and even productions can easily be done with this little guy!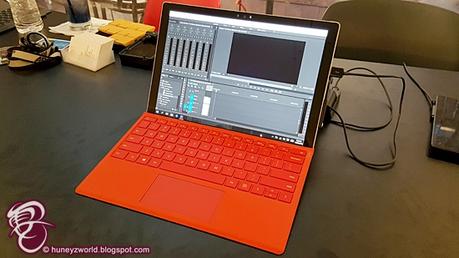 Of course, with every new gadget, comes the cool accessories. There's the Surface Pro Type Cover that comes in 3 colours (red is not available yet...) and other than it adding color to the Surface Pro 4, the keys on the keyboard are in fact spaced more widely compared to Surface Pro 3, letting you say goodbye to those sticky fingers.
Also, the trackpad is redesigned with 40% larger space allowing smoother controls as well as better differentiation between unintentional contact and a deliberate click or tap.  That's what I call smart!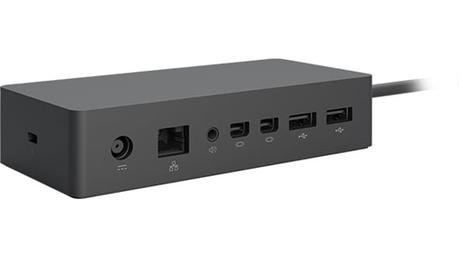 But 
There's also the Surface Dock that transforms your Surface Pro 4 into a desktop PC instantly. It's also trimmed down to just this power brick with 4 USB 3.0 connections, 2 mini DisplayPort connections, gigabit ethernet and Kensington lock!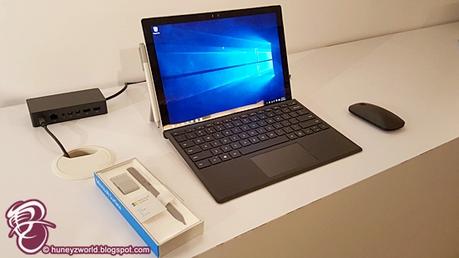 The advantage here is that the new Dock permits the tablet to recline to any position, instead of locking it into a single position. Also, it's small (550g / 5.12 x 2.36 x 1.18 inches), which means you can have it anywhere! :)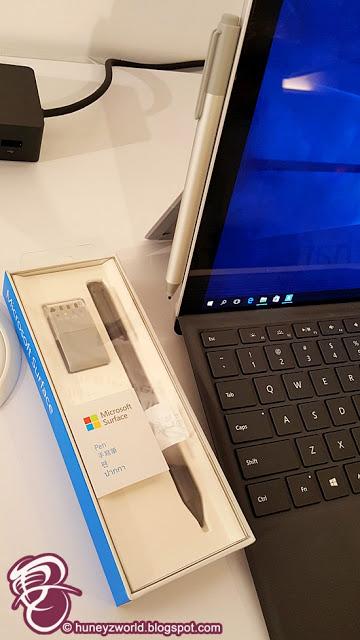 But my favorite accessory has still got to be the
Surface Pen
! Guess having my artist background, I cannot resist the pen/paper feeling; even with my mobile phones, I stuck to a Note, just coz of the S Pen...
The Surface Pen is now the 4th input device for the Surface line, beyond trackpad, keyboard, and touchscreen and 
is attachable to the Surface Pro 4 magnetically to the side of the Surface Pro 4. I'm pretty skeptical as to whether if the connection is strong enough and if the pen might just come lose in the bag?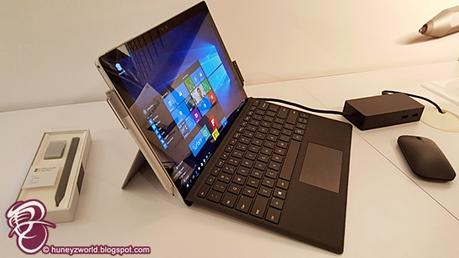 There are several shortcuts when using the Surface Pen, for one, simply flipping it upside down and sliding it across the screen erases what you've written, like a digital eraser; clicking the top of the Pen launches OneNote, clicking it twice saves a screenshot; and clicking and holding launches Cortana's oral search - which is really quite handy while in tablet mode.
Or with the Microsoft Surface Pen Tips included in the kit, you can use the B tip for sketching and illustrations, H tip for drawing, 2H tip for drafting and fast strokes or simply stick with the preinstalled HB tip  for writing and sketching. There are so many choices for you to choose that feels most natural.
MARK HACHMAN
Downside is that the Surface Pen's battery isn't rechargeable, so you'll have to replace the battery when it expires... :(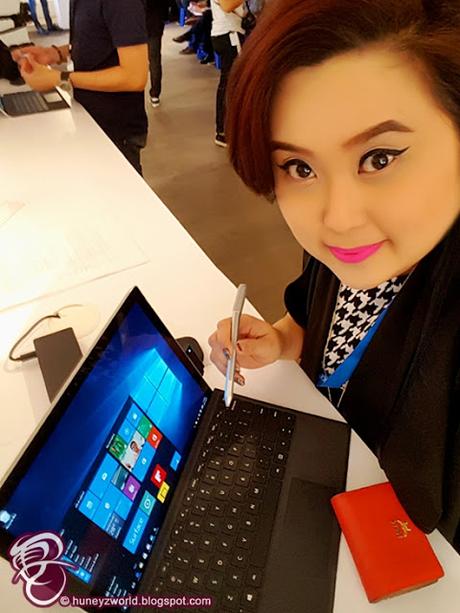 All in all. the Microsoft Surface Pro 4 is definitely a helper I'm considering and if you intend to get it for yourself or your loved ones this festive season, you can purchase it at an estimated retail price of S$1,399 by visiting microsoftstore.com or choose from the 70 stores across the 4 authorised retailers including Chllenger, Courts, Harbey Norman and Newstead.
More information on the Microsoft Surface Pro 4 is available on www.microsoft.com/surface.sg.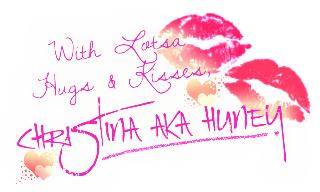 Don't forget to stay tuned to my blog / like my blog's Facebook page / follow me @huney_84 on Twitter & Instagram  for the latest updates!
http://www.huneyzworld.blogspot.com http://www.colourhuney.blogspot.com