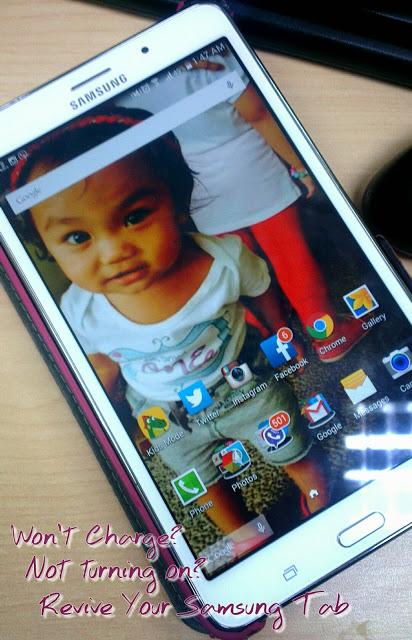 We had a full day today and after such a long day, all I want is to have a quiet time right before I prepare for work. As I get ready to go upstairs to relax, I picked up my Mila's Samsung Galaxy Tab 4 and OMG, NO POWER?!
I know for sure that the battery was at least half full, I just checked it two minutes ago. I might be wrong and the battery may have drained so tried charging it. No response. It's just a black screen and still no power. I was too tired and I have to prepare for work in an hour so I just kept it charging, hoping it will just magically start working.
More than an hour passed and I still have a useless tab. I've tried the following things that always worked on my trusty HTC phones:
1. Hold the power button for 60 seconds. Still a dead Tab2. Press the power button and the up arrow key. Nope. Power plus down arrow. Nope.3. Power, home, and arrow buttons. I got nowhere, it's so frustrating!
My sister had the same problem on her Samsung Galaxy Note and it was diagnosed as a dead motherboard. I am not willing to give up on the Tab yet so I brought it with me to work. I hopep Google will give me answers.
A common tip on different forums was to use a lower voltage power source. That means plugging in the USB Cable to your PC or Monitor and let it charge for a while. I'm not sure if it's because I'm using an HTC phone cable and not a Samsung one but this did not do anything for me.
The other thing left undone is to open the back of the Tab to mess with the battery/power connector. I can do that but i'd rather not. The Tab is only 5 months old and under warranty. Prying the back off will most likely void the warranty but I also don't want to waste 2 to 4 weeks waiting for the service center to diagnose this and/or give me a refurbished replacement.
Then I got an idea. When I used to work with desktop PCs and laptops, one of the rules to easily pinpoint the point of failure is to strip the system to its most basic components. So here's what I did:
1. I took the Sim card and the MicroSD Card.2. Pressed the power and up arrow keys at the same time for 30 seconds.3. Plugged in the charger and voila! The phone vibrated giving a sign of life.4. A quick CPR is all it needs. Just a little more push. So I pressed the power button once more and I got that wonderful Samsung chime! Woohoo!
I heard this had been an issue even with earlier version of Samsung Galaxy Tab and Galaxy Note. If you are having the same trouble, you may want to try what I did. Hopefully, you get to revive your bricked phone too.
I hope this helps and good luck!