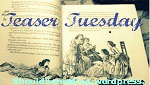 Teaser Tuesdays is a weekly bookish meme, hosted by MizB of Should Be Reading. Anyone can play along! Just do the following:
• Grab your current read
• Open to a random page
• Share two (2) "teaser" sentences from somewhere on that page
their TBR Lists if they like your teasers!
• BE CAREFUL NOT TO INCLUDE SPOILERS! (make sure that what you share doesn't give too much away! You don't want to ruin the book for others!)
• Share the title & author, too, so that other TT participants can add the book to
My Teaser this week is from Her by Harriet Lane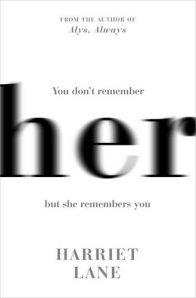 Blurb
Two women; two different worlds.
Emma is a struggling mother who has put everything on hold.
Nina is sophisticated and independent – entirely in control.
When the pair meet, Nina generously draws Emma into her life. But this isn't the first time the women's paths have crossed. Nina remembers Emma and she remembers what Emma did.
But what exactly does Nina want from her?
And how far will she go in pursuit of it? Amazon
This book is told in alternate chapters by both Emma and Nina …
My Teaser
Emma
In the end, it comes down to luck. I must have dropped my wallet as I came out of the greengrocers', and she finds it on the pavement.

Nina
In the end, it's so ridiculously easy. I'm coming back from a run when I see her going into the greengrocers', manoeuvring the enormous unwieldy buggy between the straw-filled trays of plums and avocados, the sunny upturned faces of the gerberas.