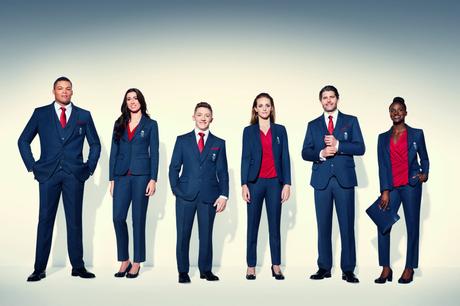 It looks like Team GB are willing to go to any lengths for victory at this summer's Olympics - and these are just two of athletes who are ready to SIZE up the opposition.
Super heavyweight boxer Joe Joyce, and gymnast Nile Wilson may be at opposite ends of the team when it comes to their height but both are hoping to tower over their rivals on the podium in Rio.
Thirty-year-old Joe weighs in at 17 stone and stands at 6ft 5ins - more than a foot taller than 20-year-old Nile, who is just 5ft 4in and nine-and-a-half stone.
The two athletes are launching the official Rio 2016 Olympic Team GB suits, which have been designed and created by leading uniform provider Simon Jersey.
Londoner Joe, who has a degree in Fine Art, starting boxing at 23 in an attempt to ease the frustration he had with his times in athletics competitions.
He might prove a nightmare in the tailors, but he is hoping to be even more of a problem in the ring when Rio 2016 rolls around.
He said: "It feels amazing to have got that named place in the Olympics. I'm just excited to get on the plane, start acclimatising and put on a good performance."
Joe's gruelling training session begins at 7.45am with sprints and runs, followed by shadow boxing, and weight training before some sparing, pads and bags in the afternoon - every Monday to Thursday.
He added: "Being the biggest in team GB means that I'm normally the last as it's always in weight order.
"It means I'll be the last to box, the last to see the video analysis, but then on the plus side I'm super heavyweight so I don't have to watch as much of what I eat. I can eat a lot more than other boxers.
"My size has helped me. I have a good reach advantage being tall so hopefully I can use that well in Brazil."
Nile, from Leeds, is part of a group of gymnasts who are nervously waiting to see if they've made the final cut for Rio 2016, but hopes he is in a 'strong position' to make the team.
Last year saw Wilson and co claim an historic silver medal in the team all-around competition at the World Championships in Glasgow and he is hoping to keep up the good form and convince selectors he is worthy of a ticket to South America.
He said: "It's quite tough waiting - but I have to focus on the process. It's less than three months to go, it's on the horizon and it's getting really exciting.
"The Olympics is the biggest competition and the pinnacle for any athlete, and they don't come around often.
"To go there and represent my country is probably the thing I'm most excited about.
"My training schedule is gruelling. I do two sessions a day, six days a week, 30 plus hours and it's been like this for the last five years.
"Size is very specific to the sport though. Joe is going to want to be as big as he can possibly be, but in gymnastics you are going to want to be lighter.
"It's important I watch nutrition and keep lean. I need strength, that's a really important element and a shorter height does give you an advantage so it's good that I'm one of the shortest in Team GB.
Accrington-based Simon Jersey has designed suits for 350 athletes - Team GB's largest ever away team - in a process which has lasted 23 months.
The team outfits will see 22,500 buttons used along with 4,854 metres - 3.01 miles - of material.
But the outfits have to cater for a wide range of people ranging from 14-60 in age - with the smallest jacket measuring 26 inches and the largest at 52 inches.
Simon Jersey staff travelled 3,100 miles on 'sizing sessions' to trial the suit on officials and athletes from nine disciplines.
The suits are made up of trousers, jackets and shoes, with a waistcoat, tie, cufflinks and pocket square for the men and a wrap top and handbag for women.
Inside, there are 10 messages of support for the athletes sewn into the lining from school children who entered a competition to have their words on the Team GB outfit.
A spokesman for Simon Jersey said: "We're incredibly proud to be working with Team GB. The athletes are amazingly diverse in terms of body shapes, with each sport requiring strength in different areas of the body.
"However, designing uniforms that look great on people of all shapes and sizes is what we do every day, so creating the suits for Team GB has definitely been more of an honour than a challenge.
"The feedback from athletes who've seen the suits has been fantastic and we can't wait to see them all wearing it at their formal events"
In addition to the suits, Simon Jersey will also provide Team GB with the outfit they'll wear in the closing ceremony of Rio 2016. Athletes and officials will receive both uniforms during the 'kitting out' process which will take place this summer.
Mark England, Team GB Chef de Mission, said: "Simon Jersey have done a fantastic job designing our formal wear for the Rio 2016 Olympic Games.
"Team GB will be around 350 athletes strong in Rio so to design a suit that not only looks great but fits every team member- from a 5ft4 gymnast to a 6ft5 boxer is no mean feat.
"We had fabulous feedback from athletes during the sizing sessions that took place around the country and with the good luck messages sewn into the lining I am sure that the team will wear their suits with pride.