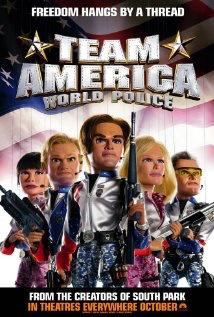 Director: Trey Parker
Writer: Trey Parker, Matt Stone, Pam Brady (Screenplay)
Starring: (Voice Talents) Trey Parker, Matt Stone, Kristen Miller, Masasa Moyo, Daran Norris, Phil Hendrie, Maurice LaMarche
Plot: Popular Broadway actor Gary Johnston is recruited by the elite counter-terrorism organization Team America: World Police. As the world begins to crumble around him, he must battle with terrorists, celebrities and falling in love.
There may be spoilers the rest of the review
Verdict: Spoofing Done Well
Story: Team America World Police starts by showing a group of terrorists in Paris when Team America turn up to save the day. Team America does prevent the terrorists but end up destroying most of Paris landmarks.  We then meet signing sensation Gary Johnston who gets an offer from Spottswoode to go undercover as a terrorist to help the Americans get on the inside. We get to meet Kim Jong Il who has been dealing with terrorists.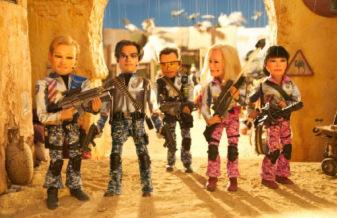 Gary accepts the offer and goes undercover and the team go off on a mission in Cairo. The mission goes well even when Gary gets taken hostage and the team destroy the landmarks of Cairo. With F.A.G (Film Actors Guild) unhappy at Team America's destruction and Kim Jong Il out to attack America framing Team America's actions. This leads to the team being captured and only Gary can save them and the world.
Team America World Police really does some up how we see America's making action films to stop terrorists but mocks the idea that they do end up destroying everything in the process. It does what we expect and have seen some previous spoofs where it makes things over the top. Its story alone is very simple and focuses more on the comedy but that is all it needs to do. Be ready to get offended by everything you see but remember to laugh. (7/10)
Character Review
Gary Johnston: The Broadway actor who gets recruited by Team America to act his way into the terrorist cell to learn about future attacks, but when things get too real for him he leaves them, only to make his return to save the whole team. Gary is a funny leading character and shows how a reluctant hero always overcomes the odds in films. (8/10)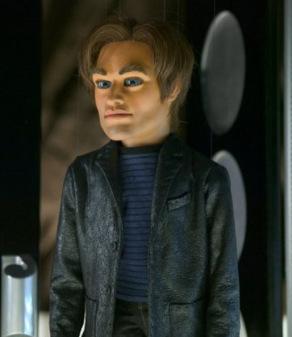 Kim Jong Il: Leader of North Korea who is the mastermind behind all the attacks. Kim is created to be like people imagine him to run the country in real life which adds to the comedy. (7/10)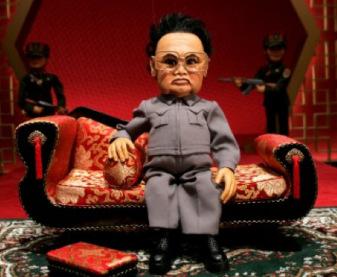 Support Characters: Team America World Police has supporting characters that all fit the stereotypes and work perfectly for the comedy required.
Director Review: Trey Parker – Trey does what we expect from him and make brilliant fun at his subject matter. (9/10)
Action: Team America World Police has action that all works to add to the comedy. (7/10)
Animation: Team America World Police I could only put the idea of puppets on animation list and this works for the idea of the film. (7/10)
Comedy: Team America World Police pokes fun at a sensitive subject but it all works if you are a fan of the South Park type comedy. (8/10)
Musical: Team America World Police has some catchy songs that all work by taking the piss. (7/10)
Settings: Team America World Police uses the iconic landmarks for all the action scenes and destroys them all along the way. (8/10)
Suggestion: Team America World Police is one to try I think you need the right sense of humor to enjoy this and be aware it is purely taking the piss out of everything it does. (Try It)
Best Part: America F*ck Yeah
Worst Part: Vomit scene is too long
Action Scene Of The Film: Paris scene
Funniest Scene: 'Matt Damon'
Favourite Quote: Matt Damon 'Matt Damon'
Believability: No (0/10)
Chances of Tears: No (0/10)
Chances of Sequel: No
Post Credits Scene: No
Oscar Chances: No
Box Office: $51 Million
Budget: $30 Million
Runtime: 1 Hour 38 Minutes
Tagline: Putting The "F" Back In Freedom.
Overall: Comedy Puppet Fun
Rating