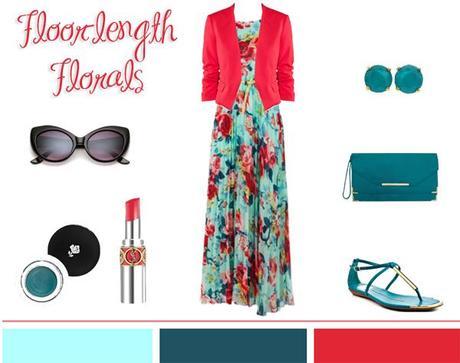 The next time you're staring at your closet wondering how to look put together in less than 5 minutes remember this: Maxi Dress + Thin Belt + Little Jacket. (Bonus: You don't even have to shave your legs).

Joy Louche Electra Maxi Dress ($100.00), H & M Raspberry Jacket ($47.00), DV by Dolce Vita Archer ($65.00), Archer Stella Sandal ($65.00),
Dorothy Perkins Teal Metal Corner Clutch
($27.00),
Kate Spade Gumdrop Earrings
($38.00),  80s Collecton Gracie Cat Eye Sunglasses ($12.00), Yves Saint Laurent Sheer Candy in Succulent Pomegranate ($30,00),  Lancome Calligraphy Gel Eyeliner in Teal ($24.50).