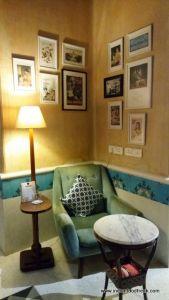 I consider myself a tea person. I love tea and I belong to a family where tea is a drink that can be had at any time of the day, any season, any occasion. But in my home, when we say tea, we mean "red tea" or Ronga Saah as we say in Assamese. Just the right amount of tea leaves boiled to perfection. No sugar no milk.
So the other day when I got this opportunity to attend a "Tea session" with an expert, I leaped at it. That too in a place like Taj Mahal Tea House in Bandra. Coinciding with the International Tea Day, Taj Mahal Tea House invited tea lovers to enjoy the limited edition teas from their selection of finest Single Estate Teas. Guiding the evening was Mr. Sandeep Chatterjee, a tea professional and an expert in his field.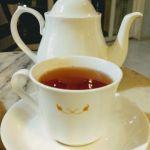 Mr. Chatterjee took us through the journey of tea in India and the status that it enjoys today. Coming from the "tea region" of India, I was brimming with joy whennames like Halmari tea estate or Chabuwa tea estate popped up. Both the tea estates are just few kilometers away from my home in Dibrugarh.The orthodox tea from Halmari Tea estate in Assam now gets sold at Harrods. That's the quality of tea produced from a tiny part of India. It was indeed a wonderful presentation which enlightened us about some lesser known facts about tea. It was great to know that all the tea estates in Darjeeling have become organic and many in Assam also are on the way of becoming fully organic.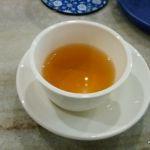 The Tea tasting started with a cup of tea from Okayti Tea Estate in Darjeeling. It's called Snow Mist. Orange yellowing thin body with a strong sweet taste. I liked the tea. I would like to keep sipping this throughout the day while I am siting and working in office.
The second tea was another Darjeeling tea called Autumn Wonder. This one was pale orange in colour, thin body with a floral fragrance. I found it leaving a very fresh aftertaste.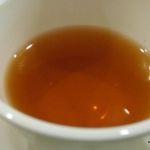 It was a known fact that Darjeeling tea is famous for aroma and Assam tea for the strong liquor. The robust cup of tea with milk and ginger / cardamom / bayleaf - or any other tea masala can be made with Assam tea. The result won't be same if you try to make that with Darjeeling tea. Darjeeling tea is more sophisticated, subtle and aromatic.
The third cup of tea in the evening was from Halmari Tea called Flaming Hue. My kind of Laal saah. As the climate in Assam is ideal for tea cultivation, most of the tea in India is produced here. The weather of Assam makes it perfect for the production of world class tea in Assam. Second flush harvested in May/June are considered to be best of the year's crop. Halmari now produces one of the most expensive teas in the world!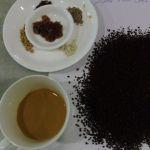 Now was the time for some in-house blends. We had Gulkand tea. Inspired from Kolkata pan and Gulkand. Based on spicy tea Heavy with strong taste note of rose. Mr. Chatterjee commented that this one would go well with Indian snacks like samosa.
We ended the evening with Kulfi desert tea. It's a dessert in itself. Nothing is meant to have with it. It's our love for desert after food, which has been extended to this favourite ginger tea.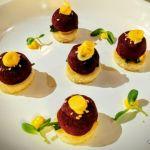 These blends are available only here for Taj Mahal tea house. There is a Secret ingredient in the in-house blends which was obviously kept secret.
Taj Mahal Tea House has an extensive menu of teas and food. While I attended the Tea Session, P made himself comfortable in a cozy corner and had their famous Idli burgers with a pot of smoked tea. P likes his tea very strong and he loved the smoked tea. He was not too impressed by the Idli Burgers though!
It is lovely place where one can sit for hours sipping endless cups of tea. In fact endless cups of different teas!
Meal For Two: Rs. 2,000 | Wheel Chair Friendly: Yes | Credit Card: Yes | Alcohol: Yes
Address: 36-A, Ground Floor, Sanatan Pereira Bungalow, St. John Baptist Road, Reclamation, Bandra West
Disclaimer: This review was done on an invitation from the restaurant. Due judgment and care has been applied by the author.