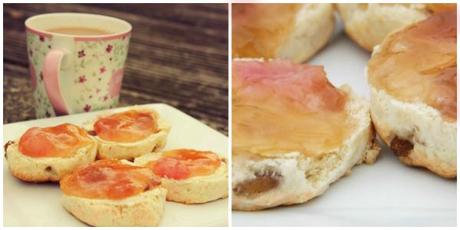 Tuberous Sclerosis Complex (TSC) Awareness Week 12th – 18th May 2014
I was asked to take part in Tea and SCones for TSC blog tour, to raise awareness of Tuberous Sclerosis Complex (TSC), and of course I was delighted to help.
Tuberous Sclerosis Complex is a rare genetic condition that can cause epilepsy, learning disabilities, autism spectrum disorder and renal problems; those affected may also have tumours on vital organs. There is currently no cure for TSC, so the Tuberous Sclerosis Association (TSA) is inviting the nation to host Tea and SCones for TSC parties to raise fund and awareness.
Over the weekend I had my very own tea and scones at the allotment, with rhubarb jam. The weather was a bit chilly and very windy but the tea soon warmed me up (I would've taken a photo of the allotment scenery but to be honest I didn't think my weedy plot would be of interest!). I'm a little bit in love with the rhubarb jam I made so I thought I'd share the recipe on the blog, it's a great way to enjoy rhubarb all year round. If you can manage to eat rhubarb without scrunching your face, then, and only then, will you love this jam. It's seriously rhubarb(y) and definitely not for wimps.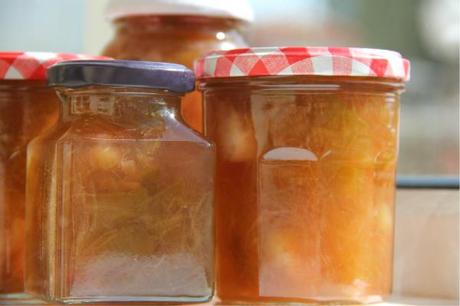 Rhubarb Jam
(makes approximately 4-5 jars depending on size)
1 Kg Rhubarb (forced or unforced stems)
850 g Jam sugar
Cut the rhubarb stems into inch pieces, add sugar and rhubarb pieces in layers to a large pan, leave the pan overnight to allow the rhubarb juices and sugar to combine to make a syrup. The following day, bring the pan to a steady boil (stirring occasionally before boiling point). Boil for 6-7 minutes then test for setting point by using a sugar thermometer or wrinkle test on a chilled plate (place a small amount of jam on a chilled plate using a teaspoon, push the jam across the plate with your fingernail, if the jam wrinkles then your jam should set well). When setting point is reached remove pan from the heat and rest for a few minutes before pouring the jam into clean warm jars. Personally, I don't add anything else because I'm a true rhubarb fan, but you could add ginger. If you're a wimp.
If you're interested in hosting your own Tea and Scones for TSC party to raise funds and awareness, visittuberous-sclerosis.org.uk for more information, and share your photos and recipes with @UKTSA #TeaandSCones
Money raised from the tea parties will help the TSA support affected families and fund much-needed medical research. If you have time, please check out the following fab blogs, also taking part in the blog tour:
Mammasaurus
Bake Good
Me and my Shadow (scheduled Friday 16th May)
Filed under: Uncategorized Tagged: Tea and Scones for TSC party, Tea and Scones for TSC party blog tour, TSA, TSC, Tuberous Sclerosis Association, Tuberous Sclerosis Complex