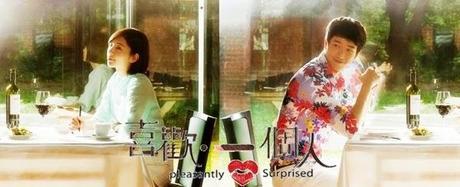 PLEASANTLY SURPRISED

(Love Myself Or You?)Taiwanese Drama | 2014 | 24 EpisodesRomance | Food & Cooking


Du Kai Qi (Kuo Puff) is an independent, single woman who likes being alone and prefers reading comics than spending time with other people. The only other thing that she loves to do aside from reading her manga is her job as a chef at Figaro Cuisine, a fine-dining French restaurant.
Fu Zi Jie (Jasper Liu) is the second son of the rich family that owns Figaro Cuisine. He just came home from France and he is also a very talented chef. Since his parents wants him to stay in Taiwan, they convinced him to work at Figaro Cuisine. He reluctantly agreed to stay and work for a month at the restaurant, but he wants to keep his identity secret and will only work as a lowly intern.
After starting his work at Figaro Cuisine, Zi Jie found out that he knew Kai Qi when they were younger. It saddened him to see that she is now very different from the Kai Qi from his childhood because she no longer smiles and has a very cold and unfriendly personality. 
Will Zi Jie be able to convince Kai Qi to open up to people and be more friendly within a month?



iSET Pleasantly Suprised | Official Facebook Page | Soompi Discussion Thread
Where to watch Pleasantly Surprised?Viki | Dramacool | List of Other Websites



PLEASANTLY SURPRISED TEASER
- Cast -Puff Guo as Du Kai QiJasper Liu as Fu Zi JieLene Lai as Cheng Le XuanJian Hong Lin as Cheng Hao WeiLee Shiau Shiang as Ji Yong QianBa Yu as Lin Bao ZhuZhang Fu JianMei Xian Zhi


TEREBOL | i ♥ dramas