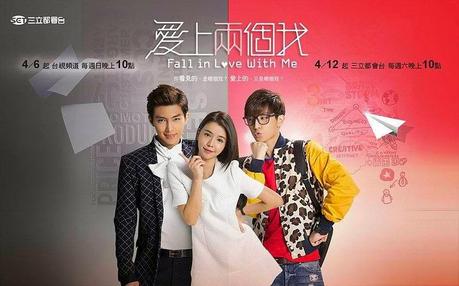 FALL IN LOVE WITH ME
Taiwanese Drama | 2014 | 20 Episodes
Romance | Comedy | Family

Lu Tian Xing (Aaron Yan) is a handsome and brilliant but arrogant Advertising CEO. He decided to take a hiatus from his career to find meaning and inspiration in his work once more. He accidentally bumped into Tao Le Si (Tia Li), the sister of an Advertising Director that he met when he was young and who inspired him into liking advertising but died while saving him during a car accident.
After finding out that Tao Le Si is managing her dead brother's struggling company, OZ Advertising, Lu Tian Xing decided to help. To do this, he had to assume an alter ego, the kind and gentle Xiao Lu, because Tao Le Si thinks that he is after her brother's company and really hates him. As Xiao Lu, he joined the company as a freelancer and helped them work and succeed on their advertising projects. As they work together, Lu Tian Xing found himself falling in love with Tao Le Si while she has feelings for his other self, Xiao Lu.
Can he make her fall in love with the real him? Can she accept that Lu Tian Xing and Xiao Lu are one and the same? Will he be able to convince her that his feelings and intentions are real and good, in spite of the lies and deceit?




iSET Fall In Love With Me | 

Official Facebook Page


Read The Drama Fiend's Review

Music from Fall In Love With Me


Where can you watch Fall In Love With Me?
Viki | Dramacool | Other Websites List


FALL IN LOVE WITH ME TEASER
- Main Cast -
Aaron Yan as Lu Tian Xing/ Xiao Lu
Tia Li as Tao Le Si
Beatrice Fang as Li Huan Huan
Jack Li as Weng Li Yang (Leo)
- Extended Cast -
-Katherine Wang as Xu Miao Miao
Chen Bo Zheng as Uncle Bo
Jian Chang as Tao De Li
Xie Qiong Nuan as Hong Xiu Luan
Lin Ke Tongas Cao Hai Lun
Kao Ying Hsuan as Li Qi Xuan (Lance)
Huang Huai Chenas Wang Ting Wei
Evan Yo as Tao Le Yuan
Yang Ming Wei as Jia Gai Xian