After largely spending the past couple of years at home due to the pandemic, it's safe to say that heading out to Los Angeles for the first in-person TCM Classic Film Festival since 2019 was a particularly special experience to me. Don't get me wrong — between all the wonderful movies, guest appearances, and other events, going to the festival is always a really special experience. But as great as all of that is, being able to spend time with close friends of mine from all over the world and meet new people is always the key thing that keeps me coming back each year. After not being able to spend time with those friends for three years, I planned my trip to include some extra time before the festival got started to catch up with friends and have fun with them around town.
Before I get into official festival events, I'd like to take a moment to highlight the Old Hollywood Walking Tour led by April Clemmer. Over the past couple of years, I really enjoyed checking out some of her virtual events about various historic locations around Los Angeles so I wanted to make sure I went on her in-person tour before the festival got started. This tour takes you along a segment of Hollywood Boulevard between Larry Edmunds Book Shop and Cahuenga, then back to Musso and Frank. If you've attended the festival a few times, you might feel like you know the area pretty well. But in all the rushing around between events, it's easy to overlook locations like the first movie theater in Hollywood, a spot where Chaplin and Marie Dressler filmed a scene, and a building where people like Joan Blondell and Mary Astor once lived. I loved being able to take the time to learn more about places I know I'd hurried past several times before. I definitely recommend it if you'll be in town for future TCMFF events.
Thursday, April 21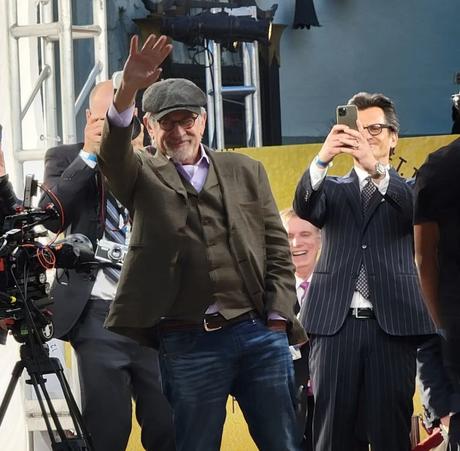 The festival officially started getting underway on Thursday evening and I got started with the event I was most excited for: watching the red carpet arrivals for the opening night screening of E.T. E.T. is unquestionably my all-time favorite movie and has been ever since I was a very young kid. Although my pass didn't get me into the movie, the idea of being able to watch people like Steven Spielberg, Dee Wallace, and Robert MacNaughton do the red carpet was just pretty much the coolest thing ever for me. Normally, there is a small section of bleachers where festival attendees who aren't going to the opening night movie can watch the red carpet activity. They didn't have bleachers this year, but standing across the street on the other side of Hollywood Boulevard still offered a great view. It was an interesting experience watching it from that side of the street where you had a mix of festival attendees, who were excited to see people like Pam Grier and Jane Seymor, and the general public, who seemed to recognize Kate Flannery from The Office more than anyone else — aside from Steven Spielberg, that is.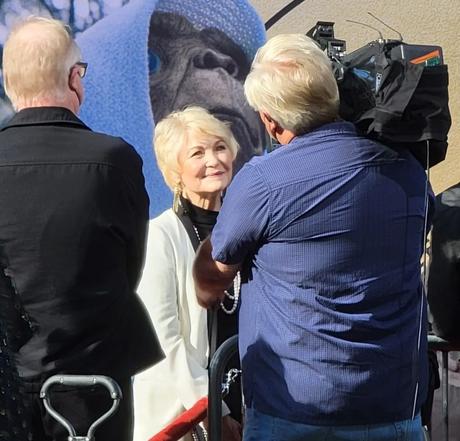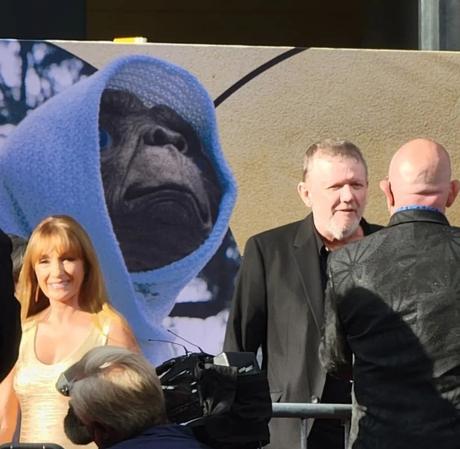 After the red carpet, I took a break to get some dinner before heading over to the TCL Multiplex for Hail the Conquering Hero. I'd never seen it before and I wouldn't say it's one of my favorite Preston Sturges movies, but I still enjoyed it.
Friday, April 22
For the first full day of the festival, I started off at the Hollywood Legion Theater for Dinner at Eight. The Legion theater was first used as part of the festival in 2019 and I only had the chance to get over there once that year, so I was very happy to get back there early in the festival. It's a beautiful theater, an excellent place to see a movie like Dinner at Eight. Not only is it a fantastic venue, the crowd was great. During the festival, it's very common for people to applaud for things like actors making their entrance or after a big musical number. In the case of Dinner at Eight, people applauded for the appearance of aspic. Definitely my kind of people.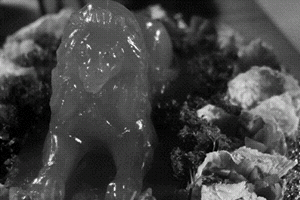 After Dinner at Eight, I stuck around the Legion to see Bruce Dern interviewed before Coming Home. I'd never seen Coming Home before, so I was really looking forward to this one. The interview was fantastic. The conversation started with Bruce Dern coming out and explaining that he was wearing an IHOP hat because he loves their crepes, ended with him talking about seeing Alfred Lunt and Lynne Fontanne on Broadway. And, in between, we got to hear about how Hal Ashby got involved with the movie at the last minute and how Dern had a difficult time with getting acclaim for playing a veteran when he hadn't served in the military. As for the movie, I loved it. Not an easy one to watch, but deeply affecting. I'm really glad I took the time to see it.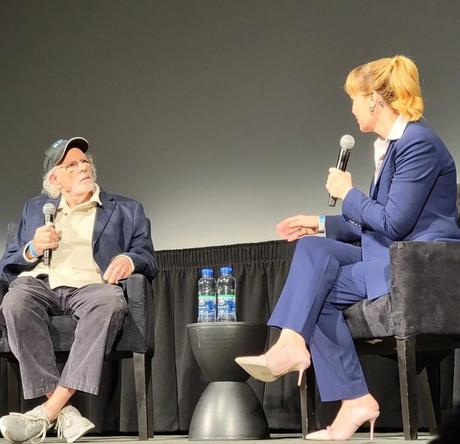 After a movie like Coming Home, I needed something a bit lighter, so I went over to the Chinese theater for a screening of All of Me. Originally, Lily Tomlin was supposed to be a guest at the screening, but at the last minute, it was announced she wasn't able to be there because of a scheduling conflict. However, June Diane Raphael from Grace and Frankie filled in to talk about what Lily is like to work with and the way she approaches the characters she plays. It was great to see both June Diane and All of Me. I had only seen All of Me once many years ago and only remembered the basic premise of it. A very fun movie to see with an appreciative crowd.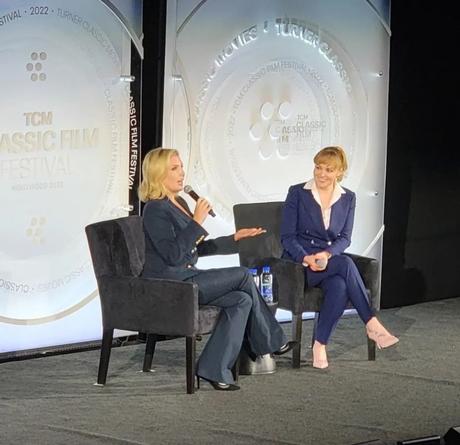 I always go into the festival keeping my plans somewhat flexible. I always have a few essential events in mind, but after the full schedule is released, it's not at all unheard of for new announcements to be made, such as new guests, so I like to keep my options open. At first, I thought for sure I'd end up at Cocktail Hour after All of Me since I like Bebe Daniels and it's hard for me to resist a rare pre-code. But this ended up being a prime example of why I always recommend staying flexible because there ended up being a surprise announcement that was a total game changer for me — a conversation before Giant with Steven Spielberg, George Stevens Jr. and Margaret Bodde of The Film Foundation. Suddenly, Giant went from being my last choice in that time slot (due to length and general availability) to being an essential event.
While I did not stay for the movie, the pre-movie conversation was great and I had a copy of the new 4K restoration pre-ordered before I even left Los Angeles. It was wonderful to hear why Giant is a movie Steven Spielberg loves so much, why it was important for The Film Foundation to work on its most recent restoration, and the memories George Stevens Jr. has of the production of the movie. We also got to hear a written statement by Martin Scorsese about why it was important for him to see the movie restored. Spielberg was the big draw for me, but I came away from it being totally charmed by George Stevens Jr. and how sincere he was in talking about his father and his work.
After a break for dinner, I decided to go see a big movie I somehow hadn't seen before — Fatal Attraction. While I wouldn't say it's one of my all-time favorites, I did enjoy it. It's the kind of movie that is interesting to see how people interpret it. Personally, I'm of the mindset that the Michael Douglas character is the real villain of the story.
Saturday, April 23
Today started off with a lot of excellent movies all in the first time slot. As hard as it was to choose between The Third Man, Too Busy to Work, and Angels With Dirty Faces, I ended up going with Angels With Dirty Faces. Even though I already own a copy of it, Cagney on the big screen is always a treat. While I've seen the movie before, I came away from the screening really appreciating how good the casting was of the actor playing young Cagney. This screening was of the movie's new restoration, just recently released on Blu-ray by Warner Archive. If you haven't already seen this new restoration, it looks beautiful.
After Angels, I got in line for anther movie that involves actors playing younger versions of the stars: Three on a Match. This was in the notorious multiplex theater 4, famous for being small and filling up fast, especially with pre-code classics like this. I was very surprised that I actually ended up getting in, but I was one of the last. Three on a Match is one I've seen several times before, but this was a unique experience not just because it was a 35mm print, but because I was sitting near some people who were seeing it for the first time. It was fantastic getting to hear the reactions of shock from people seeing that ending for the first time.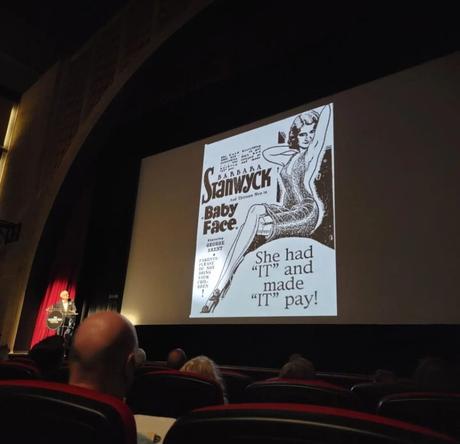 I followed Three on a Match up with another pre-code classic over at the Legion theater: Baby Face. Baby Face had originally been on the schedule for 2020, so I was very excited that it made its way onto this year's schedule instead. This screening featured a presentation from Bruce Goldstein and if you've ever seen one of his presentations before, you know they're always worth your time. He spent a lot of time talking about the film's censorship battles, complete with original documents to present and a comparison between the censored and uncensored versions of scenes. A real highlight was an ad Goldstein showed where the billing was "Barbara Stanwyck and thirteen men," which will forever live rent free in my mind. I also couldn't have asked for a better crowd to see it with. It's not every day that you get to see a movie with people who are such big fans that showing the trailer is enough to get an enthusiastic response.
As tempting as it was to stay at the Legion for Counsellor at Law, I headed over to the Chinese theater for Heaven Can Wait. Warren Beatty was going to be at both events, but Heaven Can Wait won out since it was the movie I'd never seen before. It ended up being one of my favorite discoveries of the festival, but even better was the chance to see Warren Beatty after the movie. Warren Beatty is someone I'd long been hoping would be a guest at the festival. This conversation covered things like how Muhammad Ali almost ended up starring in Heaven Can Wait, whether or not he'd write a memoir, getting potato skins at restaurants, and how he's been spending his time since COVID hit.
After Heaven Can Wait, I stuck around the Chinese theater for a screening of Singin' in the Rain. My main draw for this one was that Paula Abdul had been announced as the special guest and I thought she'd be a fun guest. She ended up not being able to attend, but it's hard to complain about getting to see a movie like Singin' in the Rain at the Chinese Theater.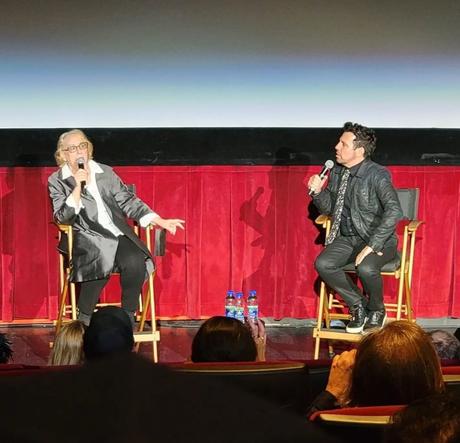 I didn't have the energy to stay up for the Friday night midnight movie, but the Saturday night screening of Polyester was a must for me. Any John Waters movie is going to be gold for a midnight screening, especially with Mink Stole making an appearance. John Waters also did a taped introduction for Mink Stole before her conversation with Mario Cantone. I've gone to many midnight screenings at this festival over the years and Polyester was definitely one of my favorites. The movie itself was hilarious and the crowd was really into it, which is the perfect combination for these types of movies.
Sunday, April 24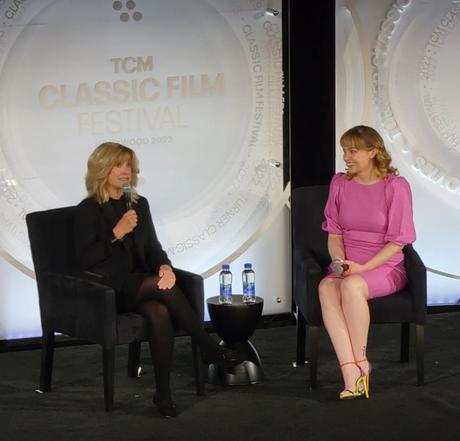 After staying up for the midnight Polyester screening, I decided to skip the first block of movies on Sunday to sleep in a bit and unwind. My first movie of the day ended up being one of my favorite discoveries of the festival, Peggy Sue Got Married with Catherine Hicks as a special guest. I'd been meaning to see that movie for a long time so when I saw it on the schedule, I wanted to make a point to finally see it. For some reason, I was thinking it was going to be a more lighthearted movie, but it ended up being much more emotionally affecting than I was expecting.
After starting the festival off with one of my big essential events — watching the E.T. red carpet — it felt appropriate to have my second big, must-see event on the last day of the festival: a live reading of the script for I Married a Monster from Outer Space. If you did the virtual festival in 2021, you might remember TCM showing a live reading of the script for Plan 9 From Outer Space, with Dana Gould, Laraine Newman, and Jonah Ray, just to name a few. It was absolutely hilarious and a big highlight of that year's virtual festival. So when this live read event was announced, featuring many of the same people involved with the Plan 9 live read, there was no way I was going to miss it.
The live read of I Married a Monster from Outer Space was a bit like watching a live broadcast of an old time radio show. There was a bit of live music and sound effects to accompany the performers reading the lines from the movie while Dana Gould described the scenes and provided a running commentary. This was the kind of event that had me laughing so hard that it felt like I was getting a core workout. After the past couple of years, being able to spend time in a room full of people just laughing together was pure joy. I'd love to see more live read events at future festivals.
For my last movie of the festival, I had a multitude of excellent things to choose from in that final block. Jewel Robbery was getting a repeat screening over at the Legion, Pam Grier was introducing Coffy, there was a screening of Seventh Heaven with the Mont Alto Orchestra, or there was A League of their Own at the Chinese with several cast members in attendance. I easily could have gone with any of those and been happy, but I opted for A League of Their Own. While I've seen it many, many times over the years, I'd never had a chance to see it in a theater. And the conversation with Lori Petty, Jon Lovitz, Patti Pelton, Megan Cavanagh, and Anne Ramsay was too good to pass up. And, as a huge Madonna fan, I loved the idea of being able to end the festival with one of her songs playing over the sound system of the Chinese theater.
The pre-movie conversation with the cast was easily one of my all-time favorite festival experiences. The cast still has fantastic chemistry together and it's clearly a movie that means a lot to all of them. Over the course of the interview, we got multiple impressions of Penny Marshall and Jon Lovitz reciting lines from a deleted scene he had filmed. I know many of the people at this screening were very dedicated, long-time fans of the movie (shout out to everyone who came dressed in Rockford Peaches uniforms) and after the movie was over, I heard more than one person say that they'd learned things about the movie that they'd never known before from this conversation, like the fact that the huge thigh bruise you see in one shot was real and was severe enough to cause long-term damage. In all, it was delightful and a perfect way to close out my festival experience.
While that covers everything I did during the festival, there's always an unofficial TCMFF Part 2 when I get home and try to catch up on many of the movies I wasn't able to see during the fest. While I got to see several great movies for the first time during the festival, I want to recognize my favorite post-festival discovery, The Last of Sheila. The Last of Sheila had been my backup plan if I got out of Angels With Dirty Faces and the line for Three on a Match already looked hopeless, but since Plan A worked out, I made sure to order Sheila on Blu-ray instead. Fun to watch and very stylish, this was definitely one of my favorite new-to-me movies of the year so far.