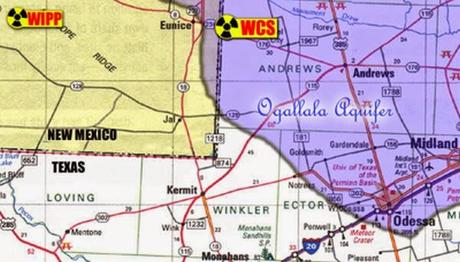 (This map showing the location of the Texas nuclear waste dump is from dmnewsi.com.)
The Republican-dominated Texas Commission on Environmental Quality (TCEQ) has once again shown it has no intention of carrying out its mission to protect the environment of the Lone Star State. Like the other GOP officials in Texas, they have decided that it is more important to protect corporate interests and profits than to protect the health and well-being of the state's citizens.
It was bad enough when the TCEQ approved building a nuclear waste dump in West Texas (Andrews County) to hold low-level nuclear waste -- even though the site sits over the southern edge of the Ogallala Aquifer (one of the nation's largest fresh water aquifers -- providing water for West Texas and the Panhandle, and parts of seven other Great Plains states).
The TCEQ and the Dallas-based Waste Control Specialists (owner of the dump) assures Texans that there is no way the dump could spring a leak and foul the aquifer -- but the same assurances were given to the people of New Mexico when a dump was built in that state (and it has now sprung a leak, requiring that waste to be moved to Texas). The simple fact is that no one can know what the future will bring, and this nuclear waste facility should never have been placed over this valuable aquifer.
Now the TCEQ has voted to make the situation even worse, and place the aquifer in even more danger. Their latest action will:
1. Amend the license they issued to allow Waste Control Specialists to store 9 million cubic feet of radioactive material, instead of the 2.39 million cubic feet originally allowed (even though they have so far only stored 51,000 cubic feet of nuclear waste).
2. Allow the storage of far more dangerous radioactive waste, such as that from nuclear power plants, instead of the low-level waste originally allowed.
3. And even though they are increasing the facility's size and allowing it to store more dangerous waste over the aquifer, they are cutting the financial assurance bond the company is supposed to pay the state (in case that "impossible" accident happens) from $136 million to $86 million (a cut of $50 million).
State Representative Lon Burnam (D-Fort Worth) says this shows the company (and the TCEQ) doesn't "have the best interests of Texas taxpayers at heart". My reaction is even stronger. I think this is sheer insanity -- and shows that Texas Republicans have completely sold out to corporate interests. They no longer even care to give the illusion that they act on behalf of the citizens of Texas.