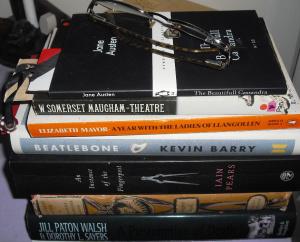 Not getting any smaller…
I am yet again becoming worried about the size of my TBR Pile, as I seem to be adding to it faster than I am reading it. The interesting aspect of this TBR growth is that new piles have begun to accrete in different places. To be strictly accurate, the growth in the bedside table pile is not a new phenomenon, but the strangely solid, immovable quality is a new feature. In the past, bedside table books tended to come and go, so the whole pile had a fluid feel to it. However, for the best part of this year, the books on the pile have been behaving like a sticky post or a pined tweet, and staying firmly put. That is not a good sign. Now, I will admit that books have remained on my bookshelves unread for about twenty years, but a bedside reading table isn't supposed to work like that. I am not sure why, but it just isn't. This is not a restful state of affairs I can assure you.
Strangely enough, a couple of books on the Bedside TBR pile have no right to be where they are, as I have actually read them. Why I have not re-homed them by now, I have absolutely no idea. Well, except for the small matter of running short of shelf space in the fiction section (AKA the bedroom bookshelves). An Instance of the Fingerpost (Iain Pears) and a Presumption of Death (Dorothy Sayers and Jill Paton Walsh) will definitely be heading for a charity shop soon. I brought them back this summer from another TBR Pile at my mum's house. The Iain Pears novel had languished unread for years and I am glad that finally I managed to read it, as it was both gripping and atmospheric. As you might recall, I am fond of historical skulduggery and this was an excellent example of 17th century political and religious machinations.
My guiltiest TBR confession is that Kevin Barry's Beatlebone has been awaiting reading since I received it as a 'Secret Santa' gift last year. I did begin to read it a few months ago but I put it aside after becoming distracted by something else. I think I made it to page twenty-two before Mary Queen of Scots came between us. My only excuse is that I must have still been in a historical frame of mind at the time. I think this was after Arbella Stuart and Elizabeth I, but before An Instance of the Fingerpost. As it happens, I still haven't finished My Heart is My Own (John Guy), having paused for breath round about the time of the Earl of Bothwell's marriage to the queen. If anyone had poor judgment in husbands, it was Mary Stuart, though to be fair the first one (the French Dauphin) was not her decision.
The Other TBR Pile…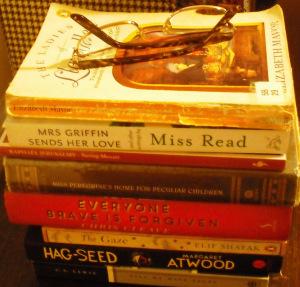 Even more reading here!
The recently instituted Desk TBR Pile is largely composed of library books and new additions (OK, I know there aren't supposed to be any new additions, but it just sort of happens to me). I am looking forward to reading Chris Cleave's Everyone Brave is Forgiven, passed on to me by a friend. I started reading it on the Luas on the way home and was immediately taken with the story, though I decided it could wait its turn while I finished something else. The library book of the moment is a collection of pieces, Mrs Griffin Sends her Love by Miss Read (Dora Saint) that I spotted recently and picked up in a fit of nostalgia. My mom first introduced me to Miss Read's chronicles of the fictional English villages of Fairacre and Thrush Green, when I was a teenager, so I was pleased to discover this collection. Dora Saint's daughter Jill has written the foreword to the book, published in 2013 to mark her mother's centenary year. The onset of winter is an apt time to be reading these short pieces, as it reminds me how hard life would have been in rural England (and Ireland) a comparatively few years ago. Thank heavens for indoor plumbing!
I probably should return to one of my TBR Piles now… How is yours getting on these days?