Last night I was lucky enough to get a ticket to the world premiere of Alexander Skarsgard's new film 'What Maisie Knew' at the Toronto International Film Festival.  Even though I arrived 2 hours early I was still pretty far back from the red carpet area where the stars came in.  True Blood fans were lined up ready to greet Alex.  Last year he spent 30 minutes signing autographs for fans and greeting them but last night they all arrived fairly late so they weren't able to spend much time with the fans.  Skarsgard spent a few minutes and was then ushered inside to do interviews while fans yelled "Alex, Alex" over and over.  After walking the red carpet and doing his interviews Alex came back outside to sign more autographs for the cheering fans.
Once inside the theater the directors Scott McGehee and David Siegel talked about the film and their hopes that we would all love it and he then introduced the cast.  He started with Onata Aprile who was so adorable with a cute black dress and sparkly tights.  Next up was Skarsgard and Aprile was jumping up and down so excited and ran and gave him a big hug.  And last but not least Julianne Moore was introduced.  The actors didn't say anything and were only on stage for a few moments.
MOVIE REVIEW
Now before I start let me just say that if I didn't already love Alex before this movie I most definitely would now.  Brooding vampire is hot but even hotter apparently is watching him colour with Aprile and being an attentive step-father.  Overall I would give the movie a solid A- and I thought it was excellent with incredible acting.  Every  single person gave an amazing performance.  Aprile was perfect as the sweet little girl stuck in the middle of her parents ugly divorce.  She reflected all her emotions on her face with a sincerity that you usually find with seasoned actors.  Moore turned in an award worthy performance as Susanna, the emotionally unavailable mother who didn't seem to quite know how to put her needs aside.  Steve Coogan played absentee father Beale who is more concerned with revenge against his ex than properly parenting his daughter.  Joanna Vanderham was wonderful as Margot, Maisie's step-mother.  And finally was Skarsgard who played Lincoln, Moore's new husband and Maisie's step-father.  When we first see him he appears to be a bit of an asshole who drinks and parties with Susanna but as the movie progresses Lincoln takes a bigger role in Maisie's life.  We are treated to a completely different side of Skarsgard, one where he gets on the floor and colours with the little girl, where he makes special eggs for her and where he goes to puppet shows.  It was a completely endearing performance and I highly recommend this film.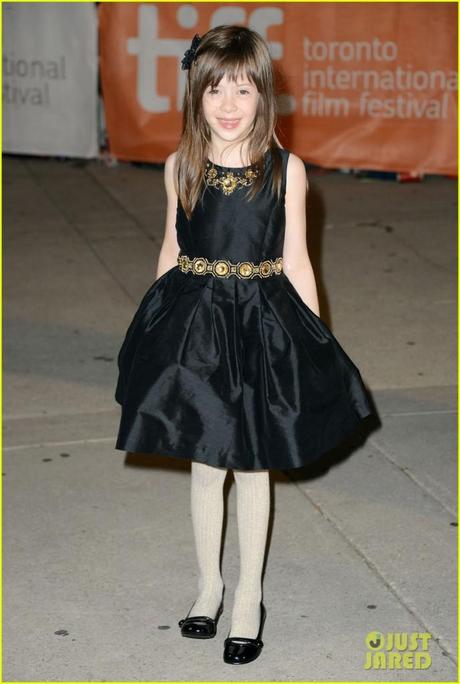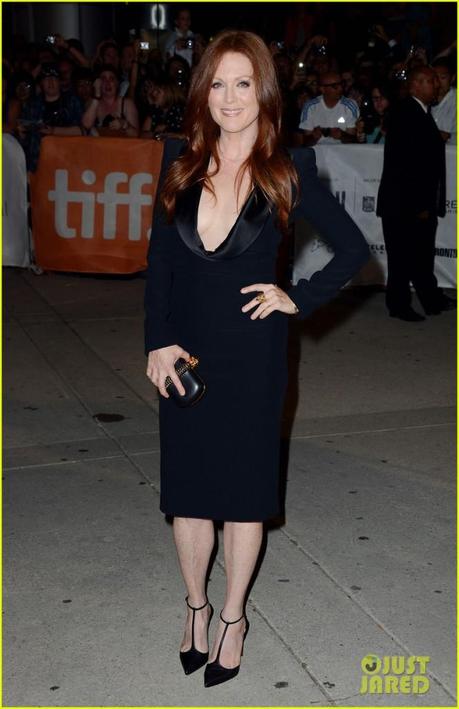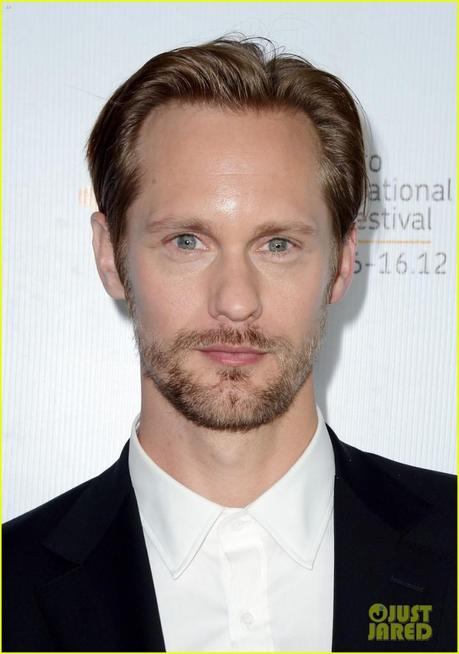 The majority of my pictures didn't turn out since I was so far away but I did want to share this one picture.  Its a bit blurry because I was up in the balcony level really far away (Roy Thomson Hall seats 2400 people) but I thought it was a cute picture.  The other pictures are from Just Jared/Getty Images.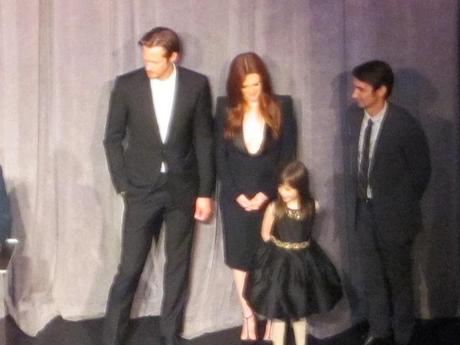 Check out the trailer for the film below.  No official release date has been set.
Image Credit: TBFS and Just Jared/Getty Images
Video Credit: Trailer Addict