After receiving and opening a holiday gift box from TaylorMade Golf at the end of 2011, I must admit that I was simultaneously sad and overjoyed: I was excited to see, feel and swing the TaylorMade #RocketBallz 3-wood which would not hit golf stores until February but dismayed that it was a right-handed golf club. Sadness turned to delight as I realized that this #RocketBallz 3-wood was going to make my husband very, very happy as it became HIS holiday gift!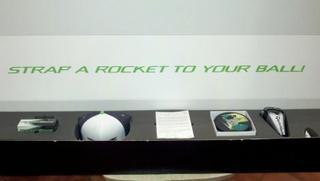 After a long New York winter staring at the contents of the TaylorMade gift box with one opportunity to test the #RocketBallz 3-wood at a very cold (albeit heated) outdoor driving range (and with the inside of the box taunting him to "strap a Rocket to your Ball"), Barry finally got the opportunity to take his new golf club on a test drive. The same day we received by mail the latest Met Golfer Magazine which featured this particular 3-wood as one of their choices as a "worthy alternative to a driver."
"At 15-degrees and 200cc, this non-adjustable 3-wood is built to give you extra clout to the tune of 17 more yards on average. You may want to seriously replace your driver. A sole slot enhances playability, while a lightweight 50-gram shaft adds speed."
Maybe in the hands of Dustin Johnson, this TaylorMade #Rocketballz 3-wood performs like a driver, but what did an 18-handicapper think?
Here is what Barry Solomon had to say...
"I finally had the opportunity to take my TaylorMade #RocketBallz 3-wood to the golf course. I was 238 yards from the green after my drive on a par-5; the approach is one on which I always come up short and said, "Why not?" The golf ball exploded off of the club face and there I was, pin high! Our entire foursome looked in amazement. I gained confidence quickly and the RocketBallz 3-wood suddenly became the best club in my bag."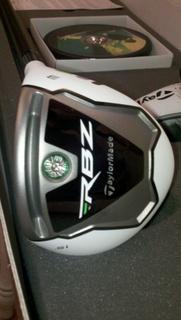 What did Barry like most about the TaylorMade RocketBallz 3-wood?
*I felt like I could do anything with it. It was easy to draw and fade.
*The way it feels in my hands.
*The sound it makes.
*Great new look...very distinctive and recognizable in my golf bag. It's bright and easy to see instead of another black/gray golf club....cool cover too.
Now that Barry has officially replaced his 3-wood with the new TaylorMade Rocketballz fairway wood, he is insisting on a new TaylorMade driver to add even more distance to his game and to complete the set. The saying goes, "drive for show" and with this new golf club in his bag, Barry's not just showing added distance, he also has added accuracy. TaylorMade Golf has Rocketballz for women in a left-handed club, so Barry is going to have to wait...now it's my turn to experience added distance!
What do you think of the new #Rocketballz by TaylorMade Golf?  Voice your opinion on Twitter @Golf4Beginners and friend us on Facebook.
Posted via email from stacysolomon's posterous