Or so it seems for our Glasgow rivals. As they continue to grind out results,  we continue to grind to a pile up of car crash disastrous performances. If we were not so caught up in the farcical situation they've mismanaged their way into, a lot of heads at our club would be on the chopping board. When we were on the brink of going bust in the nineties, we acted & played like a club on our knees – Rangers are a wounded animal and fighting as if their lives are on the line. A rookie manager, an exit from Europe & a domestic cup shows how vulnerable a club they can be – but we have contrived over the past few years to let them survive and keep our slaying sword safe in our belts.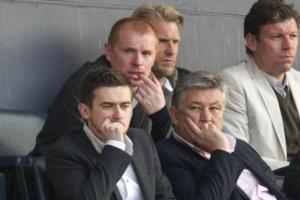 There will be more nail biting before the end of the season
I have heavily criticised Peter Lawell in a previous blog about his lies, & Matt McGlone's piece last night further emphasised the magnitude of his failings as Chief Executive at our club. Gordon Strachan asked to be financially backed in a January transfer window in the 2008/09 and when funds were not forthcoming, this led to a frosty relationship and eventually the end of the Scot's tenure at season's end. Unfortunately for Strachan, this his fourth and final season in charge, ended without the league championship which had previously been in his control. Following managerial changes at other clubs and subsequent failings, I always say that you don't know what you've got till it's gone – see George Burley at Hearts & Jimmy Calderwood at Pittodrie, they seem can be readily applied to Gordon – especially if this season continues in a similar vein. Martin O'Neill, the messiah was indeed citing health reasons within his family for his departure but it has been pointed out that perhaps a return would be ruled out whilst Peter Lawell is still at the helm – prior to his decision, O'Neill was given the cost cutting and debt saving blueprint for the clubs future and was none to enamored.
At this point in the season is it too late to bring in a new manager and save the league campaign? A lot of clubs and owners are given a hard time for being too ruthless and disposing of bosses after only a few games but perhaps in order to build relationships and mentalities within the team these decisions need to be taken earlier – Gasperini,the Inter Milan coach was sacked after three league games this year, but his successor Claudio Ranieri after a couple of morale boosting wins, was brought back down to earth with a three nil reversal at home to Napoli last night.  I feel Lennon now has to be given until the end of the season, and if he thinks personnel changes and tactical shifts may help then that's a start as previously he has been quite naive in this respect. In hindsight, the mentor overlooking the inexperienced coaching team might have opened the managers eyes to things he might have been blinkering out.
Inconsistency has been such a big part of Neil Lennon's Celtic stewardship and the past few weeks have been prime examples with a capitulation at Ibrox, decent wins at Dingwall and against Inverness, a spirited Europa League performance against Udinese & yesterday's non-event at Tynecastle. Playing devils advocate, we can also look at the unfortunate series of major injuries we have been plagued by in recent times – even though Wanyama was the pick of the Bhoys, I don't think Kayal and Ledley playing would have allowed the Hearts midfield to control the middle of the park as much. Inconsistent and no settled defensive partnerships has also not helped the cause, with many individual and team defensive errors costing us many crucial goals throughout the last season and a half. Again injury to arguably our best defender till the New Year, Emillio Izzaguire, has attributed to the lapses at the back with only the previously much maligned Charlie Mulgrew, now the only player you could entrust across the back line.
Celtic now have until the 15th October to mull over their recent shortcomings during another International break before making the trip to Kilmarnock. During a period with two of our toughest away tests, Rangers will soon make trips to Tynecastle & Pittodrie – possibly the hardest games they have faced so far this campaign. Before the next Glasgow Derby I would fully expect the Bhoys to be back in touching distance of top spot – anything less and I would expect all the faith to be lost.
55.803865
-4.191961