Eastern wisdom knows seven sensitive points, the seven chakras, along the vertebral column and in the head. They are compared to Lord Krishna's flute with which he is enchanting the fellow-beings. The seven centres are again contained in the region between the throat center and a point just above the Ajna-centre called the birthplace of Indra. There are seven other centres above the neck, the area governed by Taurus. On the solar-cosmic level, these centres are related to the seven stars of the constellation of Pleiades. The secretions of the glands in that region of the body are called the spiritual foods with which Pleiades feeds the disciple. According to 'Spiritual Astrology', the Pleiades are described as the wives of the seven great seers forming the constellation of the Great Bear. They establish a link between the seven stars of the Great Bear and the seven centres above the neck of the disciple.
To visualise these relations I created a subtle form of the head as two oval fields of light. I placed Krishna's flute as the vertebral column in diagonal, which I created by fusing and transforming pictures of a bamboo and a brass flute and by adding seven white points. I created the macro-cosmic centres of the Pleiades and of the Great Bear connected with rays of light to the head, where you can see the microcosmic counterparts. The seven centres above the neck are symbolised by seven stars linked with rainbow colours to the head.
With the help of a photo of a lingam I created the symbolic representation of the different layers of consciousness and placed them below the flute and above a peacock feather, symbol of Lord Krishna, which forms the background.
See more pictures on the site with my paintings. If you want to print the image, you can download the file in medium and high resolution format.
The different zodiacal signs are clustered in groups – you can see here all my Taurus paintings.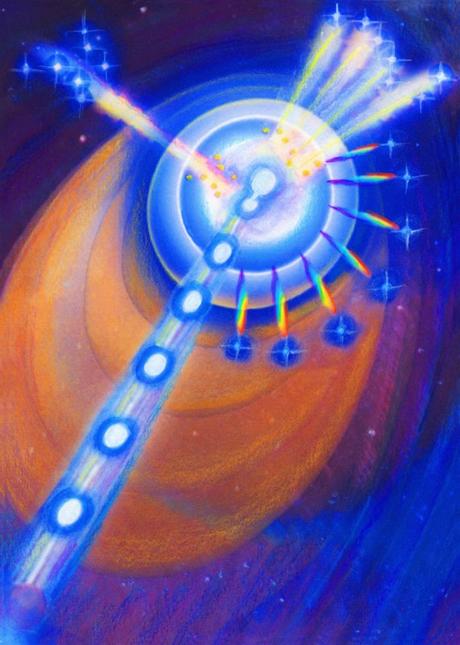 29 January 2017, pencils and photo work