We all do things we regret, right? Well for me, one of those things is my tattoos. I got my first when I was 16 years old, a random celtic pattern on my lower back, and for about the next 8 years I regularly added to them. I've now accumulated far too many and would love to wipe them off. 
I often
ponder the idea of tattoo removal
particularly after having my baby. The tattoos on my side and stomach, no longer look too impressive, and looked stretched and a little distorted.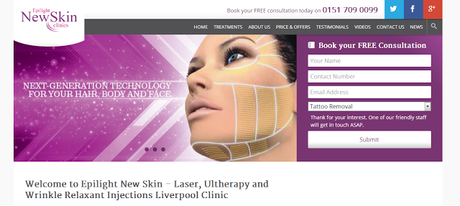 Epilightnewskin
are a clinic based in Rodney Street, Liverpool
who offer tattoo removal and
various other treatments
. Another treatment I would be very keen on trying some
their other slimming treatments
. The Pro Shock Ice treatment sounds amazing, particularly for a new Mummy with a flabby tummy.
For those of us who aren't
made of money, Epilightnewskin
have various special offers on their website. You can also find out more about what they're up too on
Twitter
 and
Facebook
, where you can also see feedback from previous clients.
*Sponsored post*