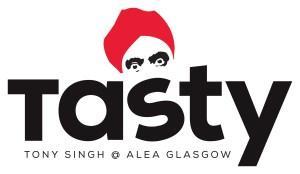 Tony Singh comes to Glasgow
This Friday sees the opening of Tasty by Tony Singh at Alea Glasgow Casino.   Tony is a smashing guy, we had the pleasure of meeting him at his pop up restaurant during the Edinburgh Festival.
Famous for his fusion of Scottish food with flavours from around the world (You must try his Haggis Pakora)  Tony will be partnering with Alea Glasgow Casino to launch his latest venture.
Tony Singh says of his new restaurant:  "Tasty is a unique culinary mash up which delivers an unforgettable taste explosion. Eating and enjoying food should be fun.  So where better to open my restaurant than within a casino – where adults come to enjoy themselves"

We will be heading along to the opening party and have received a peek at the menus – Main Menu, Sweet Menu.
Reservations at Tony Singh's Restaurant Tasty can be made on the Alea Glasgow casino website:  www.glasgow.aleacasinos.com or by contacting 0141 555 6100