Taipei has a number of night markets and Shilin Night Market is the largest. The market is often buzzing with people up to midnight (even on weekdays) or, in some areas where shops are still open, up to 1AM. People go to Shilin Market to shop, to play, to eat. We went to Shilin Market four times. And all four times, the purpose was to eat.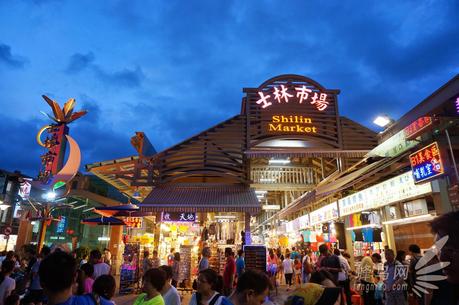 Photo from fengniao.com
The walk from Jiantan Station (this is the nearest station) to Shilin Night Market is only five minutes....but ours extended up to 15 minutes with all the crowds surrounding the game stalls tugging our eyes and the smells from food carts steering our noses in different directions.  


Games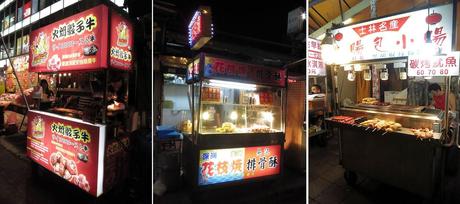 Food carts along the street
...and this food cart stopping us in our tracks with its salt and pepper cuttlefish (NT$100). Yummy yum yum.

After that brief distraction, we discovered gold in the basement of Shilin Market: the foodcourt! Such a happy place! There were so many stalls to choose from and so many people who looked like they were enjoying their food that it was difficult to choose where to eat. Of the many many many choices, here are what we tried (and enjoyed):
Pork bun NT$15Siopao with more than just pork inside!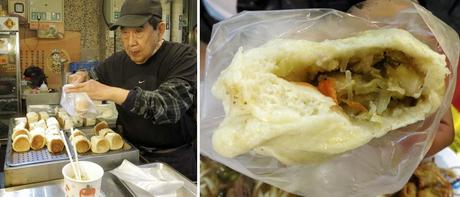 Braised minced pork rice NT$30Bok choy NT$40Deep fried crablets NT$150Oyster omelet NT$50Shrimps NT$200Abalone NT$200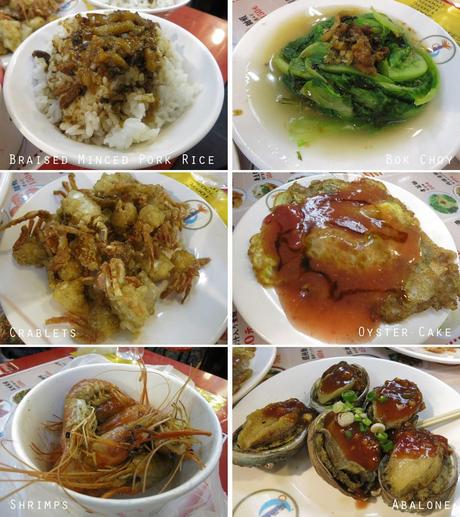 From the only teppanyaki stall (no, the food is not Japanese; I'm just referring to the grill) in the food court:Water spinach NT$30Bean sprouts NT$30Filet mignon NT$250Chicken fillet and salmon NT$250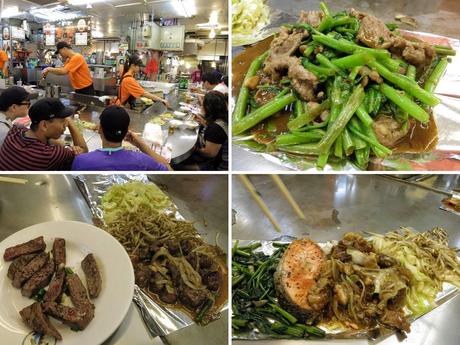 Hot Star's large (yup, it is large! It's as big as my face!) fried chicken and fried boneless chicken nuggets (NT$50 each). The photo of the stall below is of their branch in Ximending; I only saw the Hot Star stall in the foodcourt of Shilin Market on our last day in Taipei.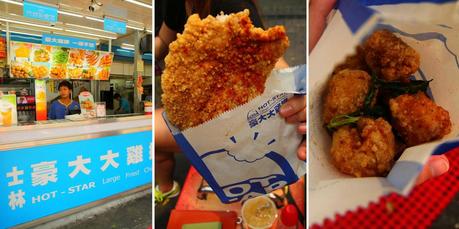 Outside of Shilin Market, when all the crowds had gone home to sleep, we were out and about looking for something to eat. The time? 3AM. There were only three eateries just outside Shilin Market that were open and for reasons I cannot remember, we agreed to eat here (I don't know what that sign says). Using our magical communication skills (aka nonexistent Chinese speaking skills), we were able to ask for recommendations and found ourselves eating three of the 45 Best Taiwanese Foods according to CNN all in one go:Stinky tofu NT$50Medicinal beef stew with noodles NT$80Beef noodles NT$100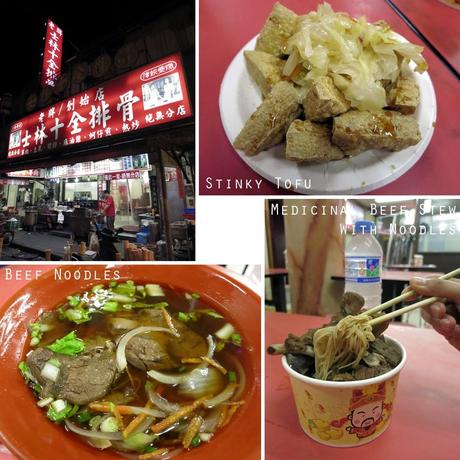 This post crosses off just 8 of the 45 listed in that CNN article. Other items crossed off in that list during this Taiwan trip were Din Tai Fung's dumplings, the Taiwanese breakfast, and the bubble tea. I have 34 more to try and this calls for another trip to Taiwan.
Directions to Shilin Night Market: Take the Tamsui–Xinyi (Red) Line to Jiantan Station, exit 1. Shilin Night Market is about 5 minutes away by foot.
Taiwan Series:
Tourist Visa for Taiwan
Taiwan Preparations
What's in a (Business) Name? Taiwan
Wisdom from the Road #20
Welcome to Taiwan
Taipei Accommodation: Fun Taipei Backpackers
Free Taipei Tourist Stops
Jiufen
Wisdom from the Road #21
Taipei: An Artist's Playground
House Visits: Shilin Main Presidential Residence and Lin Family Mansion and Garden
Life in Mini
Time to Count My Money, Taiwan
Tasting Taipei, Starting with Breakfast
Tasting Taipei, Splurge Section
Tasting Taipei, Shilin Market (you're here!)
(more soon)