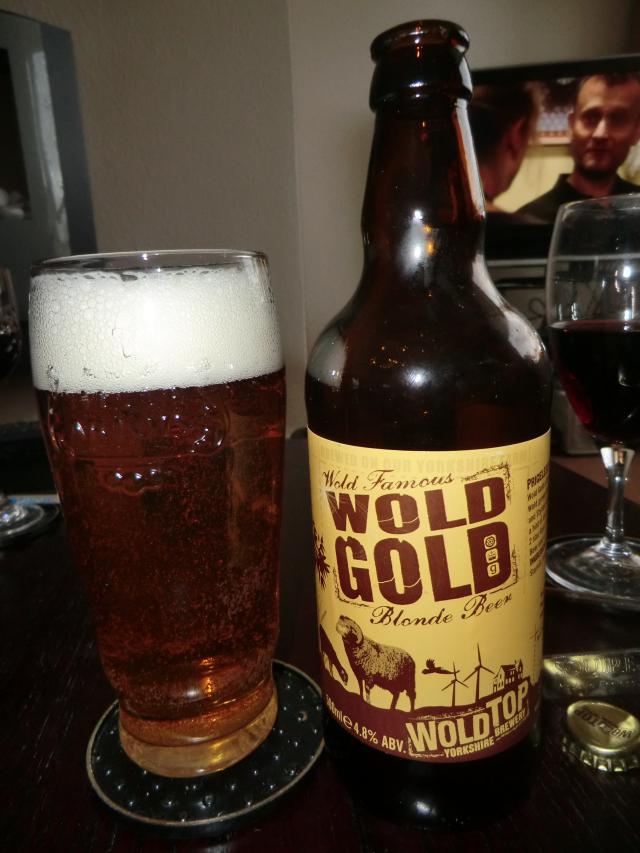 Wold Top Brewing: Wold Gold (England: Golden Ale: 4.8% ABV)
Visual:  Clear gold, large carbonation. Large sud mounds for a head which is slightly yellowed. Tight bubbles visible in the head.
Nose:  Orange rind and lemon curd. Crisp. Light wheat and light bitterness.
Body:  Creamy. Lemon curd. Light bitterness and hops. Coriander. Quite thick and slick texture. Toffee touches. Lime touches. Apple pie elements. Dried apricot.
Finish: Cream. Dry wheaty hop bitterness. Touch of lime. Dried apricot.
Conclusion:  Despite looking very lager styled this beer has a quite thick texture and creamy body. The eye doth deceive some times.  When you get past the surprise you find a crisp but present bitterness that grows nicely into the finish.
Return again, ready this time and you find a light and soothing main flavor that is a mix of lemon curd on a dessert base. Against the moderate bitterness in the finish these light sweet flavours contrast well.
There are even a few rounding out elements thrown in as well, such as sweet apple and apricot.  The beer starts out pretty simple, but adds these extra elements as it goes along. A very pleasant balance between flavours, bitterness and easy going.
You could have a few of these easily. It's just a little higher than is given for a true session ale in abv, but as long as you are having a more chilled out session you could stick on this for a while. The light apple touches give a good freshness  against the bitterness. It starts simple but ends with a reasonable range of flavor while still being easy to drink
It's a job done well and very enjoyable.
Background:  Another beer back with the family. They kindly got a few beers in to enjoy and review while I was at home.  I noted a trend to towards Golden Ales in the selection which apparently was not deliberate. The beers where picked to try and cover a range of geographical areas in England.  This one was drunk on Christmas Day itself, just before Doctor Who.  So I was in a good mood.