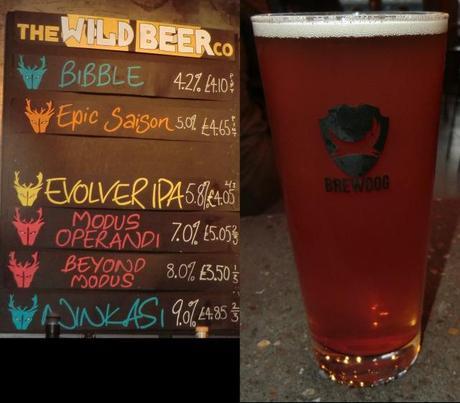 Wild Beer Co: Bibble (England: Session IPA : 4.2% ABV)
Visual: Reddened amber. Thin white dust of a head. Cloudy. Leaves lace.
Nose: White grapes and hops. Malt drinks. Dried apricot.
Body: Moderate bitterness and hops. Malt drinks. White grapes. Cream. Big apricot. Slight sherbet meets cream feel.
Finish: Malt drinks. Good citrus hops and bitterness. Kiwi. Key lime pie. Light lemon sherbet. Apricot. Grapes. Pineapple.
Conclusion: Keg vs cask, the eternal debate. Well, I say eternal, its only really been a debate in the UK for about five years at a guess. Keg before that really didn't have very many defenders due to the poor quality beers it was used for, but I digress.
Anyway, the reason I bring it up is that I've tried this a few times on cask before and it is great fun. Maybe not an all time best, but definitely a go to for a night's session drinking.
So, review kit in hand I encounter it on keg, and it shows a very different character here, if still recognisable as the same base beer. So, this will be part the usual tasting notes and part comparison of how the two versions hold up.
First up, let this warm a bit – the cooled down character in a keg kills the best elements – It made me think that this was intended first as a cask ale, though the fact they are releasing this soon in cans does make me reconsider that. Here it is a crisp beer with good green fruit flavours and a moderate bitterness.
An interesting element, and one that holds over from a more pronounced expression in the cask's version, is a slight creaminess to the beer. Here it is only a side note but an interesting one, in the cask it really mixed with the fruit to create a very solid base for the beer. Here the crisper nature seems to mean that the malt base is more evident as a separate component – the blended nature of the cask shows off the combined elements to better effect.
The hops are a tasty mix of kiwi, grapes, pineapple and the like – a bright and fresh expression as benefits the advantage of a keg. Here they are used as a fine wake up call, the keg was more soothing in its flavours – though in both they are backed by a big apricot sweetness.
So, here you get a slightly over malt emphasised beer but with a nicely done set of hop flavours, in cask you instead get a relaxing well balanced beer that slips down nicely and indulges you as it does so. So I would say, in keg – not bad – but on cask well worth hunting out for a night's enjoyment. Like that it is definitely a beer that doesn't get dull.
Background: Bibble! Seriously, why do I never have my review kit around when this is on tap. Or did I anyway, now I have got notes on this. This is brewed with Vienna malts and oats along with Amarillo and Mosaic hops. Found on keg at Brewdog Bristol, the day after they had a Wild Beer Co tap takeover.