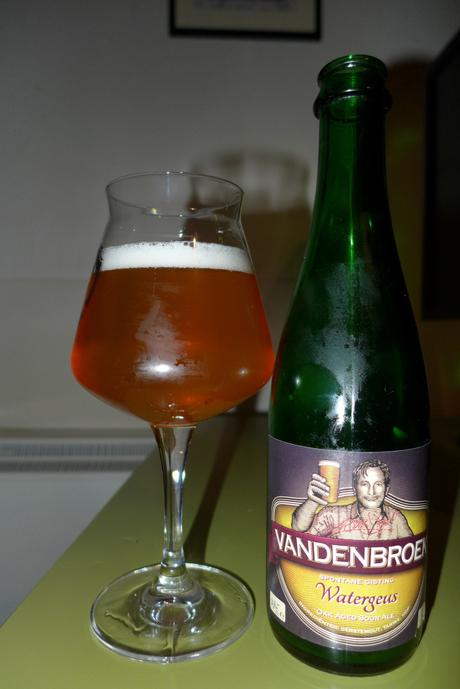 Vandenbroek: Watergeus (Belgium: Gueuze Lambic: 6.4% ABV)
Visual: Clear, just slightly hazy, with an apple juice color. Thin white bubbled dash of a head. Very small amount of small bubbled carbonation.
Nose: Horse blankets. Fresh cut apples. Dry. Light chalk. Crushed dry roasted peanuts. Crushed walnuts.
Body: Juicy apple. Brown bread. Nutty. Light chalk. Dry white wine. Slight champagne. Vanilla.
Finish: Pears. Fluffy feel. Popcorn. Yeast funk. Slight mild cheese.
Conclusion: This somehow manages to feel both dry and yet also fuller than most lambics I have tried. It is an impressive and pleasing mix.
The bigger weight side of things is felt in a fruitier, especially more apple filled, character, and touched by vanilla sweetness. However, despite that it still keeps the very dry, white wine like undertones – which gives a mouth drying, yet simultaneously refreshing style. The more refreshing notes are especially notable in the main body while the dry wine like air roars over the finish after each sip.
In-between that full front and dry finish is a yeastie experience. It calls to champagne in some ways, and the brett influence feels more like how I have encountered it in some non lambic beers – giving a fluffy, lightly cheesy notes that give real weight to the middle.
Around all that are those traditional horse blanket aroma and nutty core that make it very familiar as a lambic. This is such a showcase of lambic style. It is very telling that I have had a ton of these already, have one ageing, and have only just around to doing notes. I really enjoy it.
A fantastic lambic on every level. Expect to see more from this brewery here whenever I pull my thumb out and do more notes.
Background: Oh man, how many of these Vandenbroek beers have a I tried before I finally pulled my thumb out and did notes on them? Quite a few! Anyway, I was obviously enjoying them so decided it was my duty to do some notes and maybe bring these to the attention of people who may have overlooked them until now. This is their standard gueuze – coming in a slight bit higher abv than I've seen listed in other places online, so I'm guessing the abv changes batch to batch. This was grabbed from Independent Spirit, who were the people who introduced me to them and have a great lambic and sour collection. Went with Miracle Of Sound's Level 11 to listen to while drinking, "A Long year" was especially feeling appropriate as the end of 2020 loomed in front of me. Which, reminds me – Happy New Year! Enjoy Your drink!