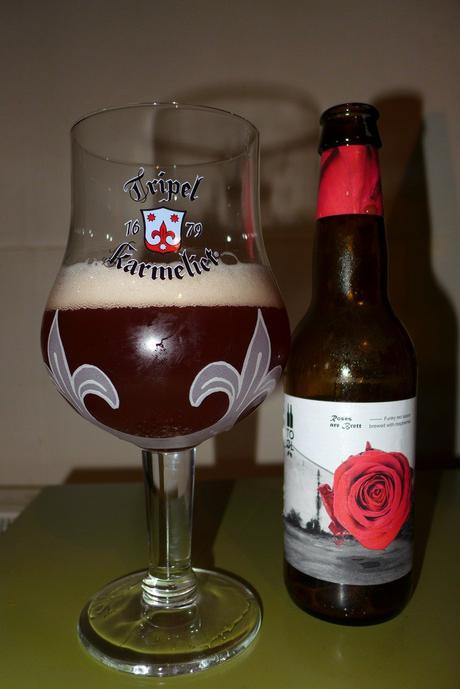 To Øl: Roses are Brett (Denmark: Saison: 6% ABV)
Visual: Deep cherry red. Red touched inch of froth. Some carbonation mid body.
Nose: Tart raspberries. Natural yogurt. Slight yeast funk character. Strawberry. Light pepper.
Body: Raspberries. Sour cream. Charred bitterness. Rose wine. Slight bready backing. Milky character. Slight funk sourness. Sour lime. Mandarin orange.
Finish: Rose wine. Sour dough. Charred bitterness. Raspberry. Orange juice. Lemon curd. Kiwi.
Conclusion: Sometimes I praise beer for their complexity – sometimes being able to dig deep into a beer; being able to take your time and find a shifting, ever evolving beer is a great reward. Other times it is enough just to find a beer that does what it does very well and doesn't shift from that. This is that second type of beer.
It is a very raspberry filled, slightly tart beer with a bready backing, some funk and sour character and a few sour fruit notes that spin off from that main core set. It is that beer at the beginning and that beer at the end.
What sells it as a beer that is more than that simple description is the feel – With a very recognisably saison mouthfeel, slightly rustic and bready, kind of funky with a slight milky smoothness. It lets that lovely sharp raspberry float in the air and do its thing, without losing such a distinctive beer character. It has a feel that doesn't interfere with the main flavor that lets it keep it simple without being dull. Bravo.
The other fruit flavours mentioned earlier are an extra note there, though they definitely feel like they spin out of the sourness of the main raspberry flavor – you get lime sours, notes of lemon freshness and the like. They are all similarly fresh, tart and sour notes that just add a bit of sparkle. The oddest other flavor you get in the mix is a kind of rose wine feel – possibly that is why the beer is named as it is, or maybe that beer's name is what caused the image to come to mind for me.
Any which way, this is lovely – from a minute or so in you know what you are getting for the rest of the beer, but it is polished so well that you can just lean back and enjoy it as it is. It strips out everything it doesn't need and just delivers what it does best. Very good indeed.
Background: This is one grabbed on a whim from Brewdog's guest beer selection -To Øl, like a lot of the Scandinavian craft beer scene, is solid as hell and the idea of a brett and raspberry saison sounded like just the thing for me at the moment. As the second raspberry infused beer back to back for doing notes on it was interesting to mentally compare it to the De Molen raspberry beer. Anyway, felt like some weird and heavy music to go with this so put on Buckethead's Cuckoo Clocks Of Hell – a guitar virtuoso's crunchy, metal like, heavy album.