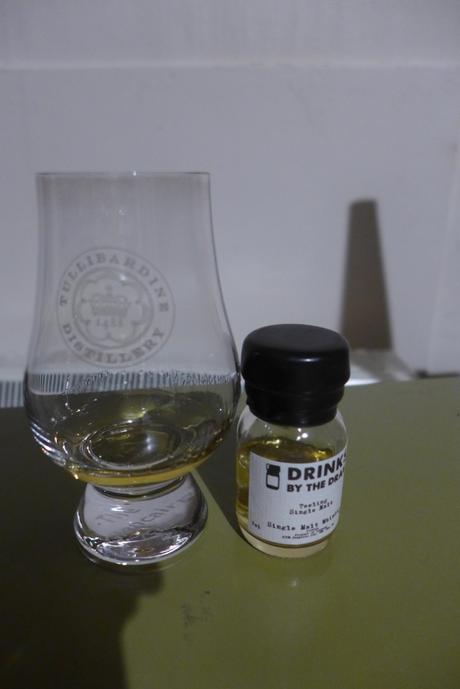 Teeling: Single Malt (Irish Single Malt Whiskey: 46% ABV)
Visual: Very pale gold.
Viscosity: Very slow thin streaks.
Nose: Grain fields and alcohol. Heather. Smoke and granite. Water adds peaches and cream.
Body: Smooth. Vanilla. White chocolate. Oak. Slight metallic notes. Slight granite. Lime. Toffee. Water unlocks peach sweets and cream. Warming.
Finish: Light wood. Toffee. Water adds peaches.
Conclusion: Another whiskey that benefits from adding just enough water. Though this one is more finicky than most about where the sweet spot is. Too much or too little and this is a fairly modest grain field, grit and alcohol whiskey. Not bad but nothing to really write home about. With just enough water you get the most unusual elements – soft peaches both natural and hard sweet styled. That was unexpected and wonderfully long lasting in the finish. I could take my time and just let it float in my mouth.
Now it could be because I added more water too soon and it returned to the lesser experience, but while nice it did seem a touch one note. Again I will remind people I was working on a small sample here if you think I have given it a hard ride. However I did enjoy it like this – the rest of the whiskey character is pretty much what you would expect so I cannot rate it too highly, but there is something so very nice about soft peaches slipping down with a whiskey air.
So, I can't say seek it out, but if you do find it in your hand, treat it with care – add water drop by drop until you find that sweet spot of peaches, then add no more lest it be ruined. In my humble opinion of course. Your mileage may vary.
So, it is ok – I can't see why it is quite so late in the calendar as it is a bit simple for a lot of the time. I'd say stick with the excellent small batch from Teeling instead.
Background: Ok, second to last time "Ok, bias warning first: This is a part of the Masters Of Malt Whisky Calendar given to The Bath Whisky and Rum Club, part of Independent Spirit, who invited me to assist with the notes in return for uploading them to alcohol and aphorisms. Sounded a very fair deal to me. Also, due to this we each only had half of the 3cl bottle so thoughts are based on a smaller exploration than usual. On the other hand I could not say no to the chance to try so many new whiskies. Many thanks!" Looking online this apparently has quite a mix of whiskey. Up to 23 year old spirit, added in a whole mix of oak. Teeling already made a very good impression on me with their small batch, so this promised to be a good one. Note. I made a special note on this to make sure I spelt it "Whiskey" not "Whisky" if I missed any – many apologies.