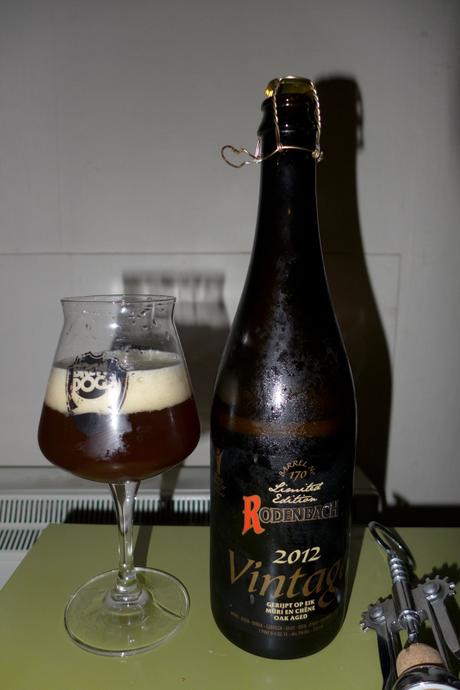 Rodenbach: Vintage 2012 (Belgium: Sour Red/Brown: 7% ABV)
Visual: Cloudy and hazy dark red. Browned tight bubbled head.
Nose: Sultanas. Fruitcake. Acidic and tart. Cider apples. Cake sponge. Cherries. Malt chocolate. Almonds.
Body: Tart white grapes. Fruitcake. Cherries. Sugared almonds. Lemon sherbet. Cider. Malt chocolate. Vanilla and caramel.
Finish: Grapefruit. Lemon sherbet. Acidic apple. Sour wine. Raisins. White wine. Fresh apples.
Conclusion: I think I have finally found peak Rodenbach. While still tinged with the extreme sour, almost vinegar touch of the Grand Cru, it has been mellowed down just enough with age for it to have a bit more room for each element to develop. Now, rather than a holographic range each one gets the time to develop a distinct identity.
As mentioned there are hints of that almost vinegar touch, but when mellowed down it feels more like a real sour wine style used as a base for the range of fruit flavours to grow within. Some of the sweetness of the default Rodenbach is brought back here as well, again mellowed giving malt chocolate for much welcome contrast and release.
This really is a fine thing. Wine like with full on grape flavor into a more beer like grapefruit flavor. It is sharp, fresh, and often cider like which mixes nicely with the white wine notes. While these all call to white wine there is full on raisins, fruitcake and cherries as contrast which call to red wine. Together they make for one of the most complex and rewarding beers that exist.
Despite the lack of what I call "Holographic" flavours from the acidity each element still progresses with impressive complexity. It just progresses in more predictable ways. Caramel and vanilla come from the sweetness, sugared almonds from malt chocolate. It is less haphazard and thus feels a more integrated package.
If you like sour ales then this is the top hat wearing, monocle eyed, full suit and waistcoat ensemble of the distinguished sour category. A beer of champions.
Background: Rodenbach – another love/hate/intrigue brewery. Their Grand Cru was intriguing but harsh as heck – and other beers from them seem to be easier to access but lose the mass of character that comes with the Grand Cru. So this, the aged Vintage Ale was of interest to me. Picked up from Independent Spirit, this was drunk while listening to some Scroobius Pip: Distraction Pieces. Yes, yet again. It is a great album.