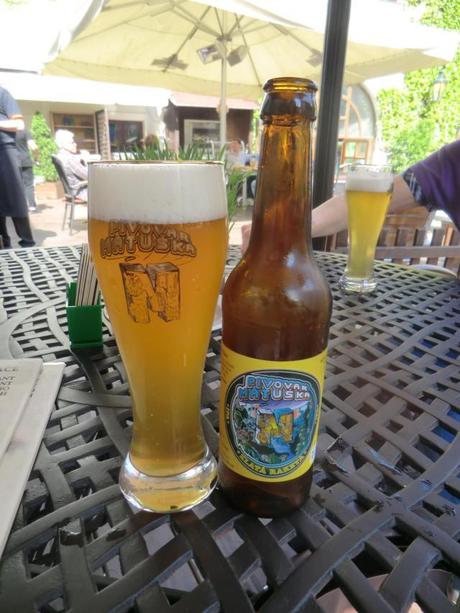 Pivovar Matuška: Zlatá Raketa 17° (Czech Republic: IPA: 7%% ABV)
Visual: hazy lemon to lemon curd. White crisp bubbled head.
Nose: Tangerine. Grapefruit. Digestive biscuits hop character.
Body: Grapefruit. Tangerine. Vanilla and light custard cream biscuits. Juicy sweetness. Grapes. Moderate hops and toffee malt. Orange jelly.
Finish: Pineapple. Fresh hops. Good bitterness. Pink grapefruit. Light greenery. Marmalade. Shortbread.
Conclusion: As mentioned in the background, the first Czech review and it is an IPA. Go figure. Let's move on and look at the beer, I have been utterly spoiled by IPAs over the years, despite that this is still seriously impressive. It is very big, very juicy, fruity and very much in the American IPA style. The aroma is wonderfully fresh, with tangerine and light grapefruit roaming out.
The body actually hides the bitterness more than you would expect, and so comes out sweet, though more in the fruit expression than the underlying malt balance. There is some light vanilla and toffee influence from the malt, but you get much more the orange, tangerine and grapes. Very juicy. Now if it wasn't for the next element, while being a good beer it would be a disappointment as an IPA.
The next element? The finish which brings the bitterness, and that is what makes it as an IPA. You get light bitterness in the body, but the robust punch is saved for last. Alongside the biscuit character to offset it, it makes for that final missing piece of the IPA puzzle.
This comes together as an insanely drinkable IPA, less bitter than many, but with plenty of hop character, and before you underestimate it, it brings everything at the end. A summer fruit IPA and lovely as such. I could easily drink this until the 7% abv knocks me over. Brilliant, and worth the heresy of seeking out an IPA in the Czech Republic to give it a try.
Background: First Czech Republic review! Woo! And it's….an IPA. Way for me to take risks huh? I have at least a vague defence. We were looking for a brewpub on the outskirts of Prague that was well reputed for their pilsners (which made sense to review in Prague) and instead found a completely different pub. Which turned out to be right next door to the one we were looking for, but we only found that out later. Anyway I noticed they had this, the second highest rated Czech beer according to rate beer. So I thought I would grab it anyway. So my first Czech review is an IPA. Leave me alone. The name translates as Golden Rocket, and the 17° relates to the percentage of sugar content at the start of the brew, which is a common thing in the Czech republic , dividing by 2.5 tends to give a rough approximation of the abv.