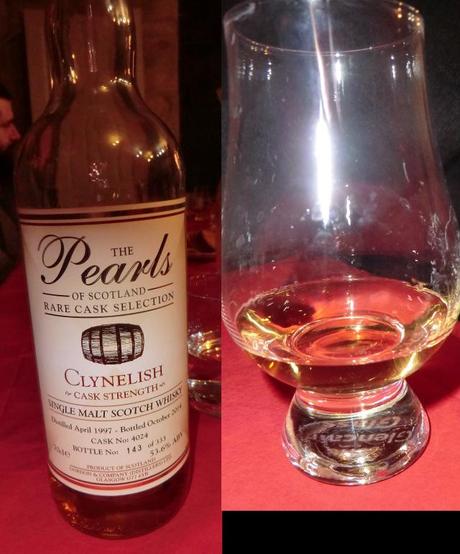 Pearls Of Scotland: Clynelish: 17 Year Cask Strength (Scottish Highland Single Malt Whisky: 17 years: 53.6% ABV)
Visual: Pale grain gold.
Viscosity: Thick fast streaks.
Nose: Light smoke. Touch of meat and broth. Varnish. Water adds old fashioned sweet shops.
Body: Thick. Touch of fire. Burnt caramelised brown sugar. Tar. Waters adds more caramel sweetness. Crème brulee. Custard pudding and toffee sponge cake.
Finish: Tar touch. Light fire. water adds cinder toffee and smoke. Pepper and touch of salt.
Conclusion: Wow, this is completely different from the last Clynelish that I tried. So does that make it a good whisky? Well, at high abv it also pushes a booming whisky to go with it, so at the very least I am not going to be complaining about it being too light.
This is chewy as hell, up front it has got a bit of smoke and meat – closer to the heavier whiskys than I would have expected. However once you get into the main body you realize that, while it is big, it is big in its sweetness – like treacle and steamed toffee pudding – very thick and full as it fills your mouth.
The two styles then combine on the way out – the smoke and the sweetness meld for a big but balanced finish. The more water you add to this, the sweeter and smoother it gets – unusually, adding too much water doesn't seem to make the whisky thin, instead seeming to give it a too cloying sweet character, like it has finally been let off the leash. Still a reason not to add too much water, but an interesting variation on expectations.
It is an enjoyably big whisky, heavily chewable – the only problem is that, despite the contrasting sweet and smoke, it still feels somewhat one note. In everything it is very sweet – very treacle, very toffee, but no real point to relax or be released. Enjoyable to experience, but it does wear out its welcome.
So, for people who want a whisky that as big as the islands, but without the medicinal character – this could be right up your street. For me, it is a bit too one note – still fascinating, but not a favorite.
Background: Nearing the end of the Burn's night five. This is only the second Clynelish I have had, so not much to compare it to. Also this is one of only 333 bottles, so the night was a nice chance to try a few uncommon whiskys over at Independent Spirit. As before this was part of a group tutored tasting so I may have been influenced by the people around me for my notes.