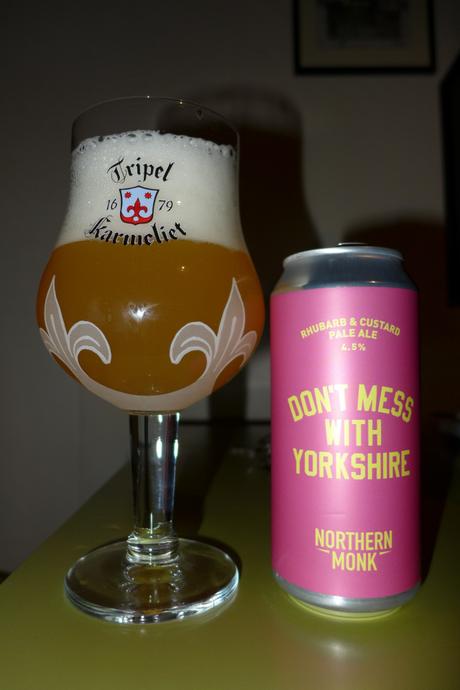 Northern Monk: Don't Mess With Yorkshire (England: American Pale Ale: 4.5% ABV)
Visual: Hazy lemon coloured body with a massive white bubbled head that leaves some, but not many suds.
Nose: Rhubarb and custard sweets. Custard slices. Sugar dusting. Light orange. Slight apple.
Body: Wheaty. Moderate bitterness. Gentle custard. Hard sweets. Slight rhubarb. Slight orange skin. Slight milk and lactose.
Finish: Flour. Good bitterness. Dry. Peppery. Slightly earthy. Gentle custard. Slight tart rhubarb.
Conclusion: This is a much more straightforward beer than you would expect from the description, and from the first impressions you get from the aroma.
So, since I just brought it up, let's start with the aroma. It is full on, full of rhubarb and custard sweet notes. Yes, I know generally hard sweets don't have that much smell to them, imagine them all crushed up and sweet dust is in the air or something, this smells like that. It is very sweet, not super artificial smelling, but definitely calls to the hard sweet style.
The rest of the beer has none of that.
The body, by comparison, is fairly dry and slightly peppery with a moderate amount of hop bitterness. It is not overly attenuated like some APAs, but it still feels within the dry APA range, with all that entails.
The custard notes come across along with a gentle, milky to lactose thickness, and only a hint of the actual custard flavour, and very little of the sweetness. Similarity there is a light tartness from the rhubarb, but it is generally coming across as the unsweetened, earthier rhubarb rather than rhubarb and custard sweets. So, I have no idea where that aroma came from as that is not the beer you get!
It is a solid APA, with a gently used twist to it. Far more subtle in expression that I expected, and probably a better beer for that, if not as showy and silly fun as I hoped. The base APA is not special and without the extra twist would be very middle of the road, as is it is not a must have, but decent enough and a bit different with its subtle enhancements from the extra ingredients.
Background: I spent most of my teenage years in Yorkshire, I have a soft spot in my heart for the place. So, yep, this beer caught my eye. I am also a fan of Rhubarb, Custard and also Rhubarb and Custard, so another thing in its favour as this is a Rhubarb Custard Pale. What does that mean? Well looking at the can it is made with vanilla, rhubarb extract and custard extract, so I'm guessing that. Anyway another one grabbed from Independent Spirit – I put on a band I have only just discovered to listen to while drinking – Bloodywood – an Indian street metal band that rocks!
Advertisements