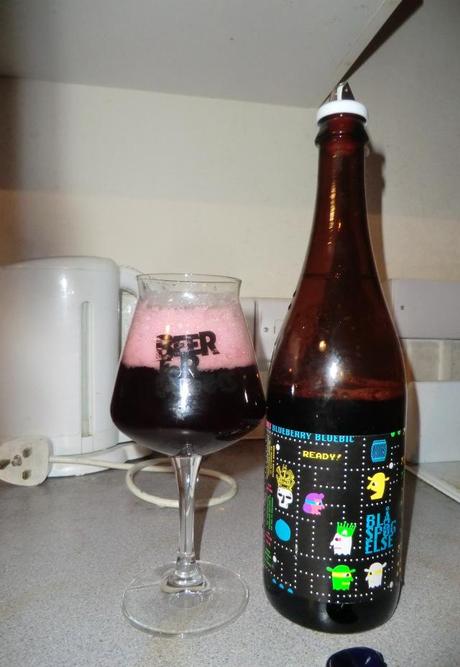 Mikkeller: Three Floyds: Blå Spøgelse (Denmark: Sour Ale: 7.7% ABV0
Visual: Deep black cherry red. Massive cherry yogurt coloured head that leaves lace.
Nose: Oats. Horse blankets. Black cherry yogurt. Blueberry pie and sugar dusting. Rice crackers. Mashed blueberries and pips. Musky.
Body: Sour. Twigs. Charred oak. Tart blue berry. Apple cider. Black cherry yogurt. Acidic at back. Lemon.
Finish: Tart blue berry. Spirit touch, Oak. Drying. White wine. Cider. Dried blue berries.
Conclusion: So, is this a blue berry lambic or not? I mean, it tastes like one, looks like one, even occasionally is referred to as one online – but most places seem to just call it a blueberry sour ale. Which is a bit more varied category. Hmm, it is very lambic like so I will treat it as one, while admitting that it may not in fact be one. That seems a fair compromise.
It isn't like a blue berry lambic is unheard of – fairly uncommon, and definitely not one of the standard fruit for it, but not unheard of. Anyway, the base of this tastes like a very typical, competent, if not exactly to my style, dry lambic base. It is quite dry, with some sort of dry charred oak harshness. Not my favourite style – it reminds me a bit of Girardin which I never quite took to, however it is more mellow here. It is generally a mix of the harsher elements – all the dryness, tartness and oak, but delivered in a softer manner that takes off the edge. While not exactly my style, it is very competent and I find myself unable to complain too much. I'm not quite sure it works, but it doesn't exactly hurt – it delivers what you expect, a drying lambic. So, we get to the more important question. How well does it handle the fruit?
While it is loaded with blueberries, it actually has quite a black cherry yogurt thing going on, the influence of the base lambic seems to make the darker elements of the fruit come out, and the less sweet notes, but there is no denying that the fruit has a massive presence. You very rarely get high or light notes, though when you do they come as a welcome relief, you get more the drying and dark, until you swallow. Then, in the finish, you finally get the distinct blueberry character – more like dried blue berries that you get in cereal, much more concentrated and intense. that dry, fruity finish lasts long after the last sip.
Overall it is very interesting, you get a lot of depth, but the slight harsh dryness of the base keeps it as only an interesting beer. It never quite lets you just relax and enjoy it freely, there is always a note of discord for me. A pity as the use of fruit is very well done indeed.
So, not bad overall, very different, but it is an expensive one for such a mixed review. So I can't recommend it in general, despite the interesting characteristics.
Background: I'm a big fan of Mikkeller, and of Three Floyds – so this collaboration blue berry and oak aged sour ale was a must grab when it turned up in Brewdog's Guest beer section. Drunk after getting back from a weekend at Alton Towers, with a battered, tired and happy body. I put on some Offspring, Smash to be exact, during this. Not my favourite band anymore but still fun.