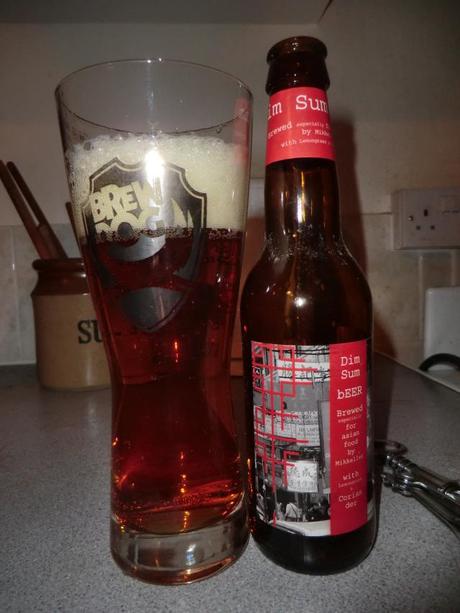 Mikkeller: Dim Sum (Denmark: Spice/Herb/Vegetable:5% ABV)
Visual: Lightly bronzed. Large yellowed head.
Nose: Jiff lemon and pancakes. Coriander. Wheat. Subdued malt. Dill pickles. Dough. Pineapple and lime.
Body: Turmeric and coriander. Carrot. Squeeze of lime. Lemongrass. Solid malt underneath. Ginger. Touch of fruitcake and cherry.
Finish: Bitter yet with a lemon zing. Bubblegum. Dry feel. Turmeric.
Conclusion: It is hard to decide if this is a beer that does its intended job without having some sushi and stir-fry to hand. I mean I can see that is has definitely been designed with Asian food style in mind, lots of lemongrass, with fresh lime and lemon zing cutting through. Mildly spicy, and definitely brings to mind the pan Asian food I have tried.  The thing I don't know is if it will complement the food, or if having too many similar flavours will end up getting samey or overpowering, the lemongrass especially. It is very hard to say in theory.
Hold on, before I go any further I'm going to do an experiment with some stir fry tinkering. Cooking time!
Ok, I'm back. Hmm, it was ok. Now admittedly I'm not the best cook, nor the best at creating representative food of the Asian variety, but at least give me points for trying. The beer didn't feel intrusive, the fresh elements worked well at cleansing the harsher elements.  The base texture was quite crisp and refreshing but had enough solid backing from the malt to make sure that the lemongrass didn't become too heavy as I worried.  Didn't seem to add a vast amount though. Maybe it was just my cooking.
Well, let's look at it as just a beer then. ("just" I say, "just"..). Well, its still ok. Weird flavours which reminds me somewhat of the sorachi ace hop. Probably the lemongrass and bubblegum.  Normally I dig weird but seems a bit heavy on the grassy flavour, odd considering it didn't seem too intrusive with food. It is not bad but I can't see myself having it regularly, by itself it seems a bit unnecessary with the extra flavours not adding much.
Overall it is an interesting experiment, though if I'm eating out I am more likely to go with  nihonshuu or umeshuu (sake or plum wine)  than this as I rarely get a chance to try them. I wouldn't complain if this to replaced Asahi and the like though.
The main problem is it is expensive for what it is. If it was cheaper it would be great to share with mates with some take out, as is it's a premium product and doesn't add that much.
Not bad but it doesn't really grab its niche as well as it could.
Background: Another Mikkeller beer, this one apparently designed to go well with Asian food. It is made with lemongrass and coriander and was made with the aid of Henrik Yde Andersen who is a well respected Thai chef.  Drunk while listening to the album's of the band Republica after I found out they were touring again.  Republica was a favorite band from my distant childhood, and split up before I started going to gigs, so that was pretty cool news.  As I have mentioned recently I am a big fan of Mikkeller in general and love the wild experiments they try. I have several friends much better at making Asian food than I am, if I ever get a chance to try the beer again with some of their cooking I will let you know the results.