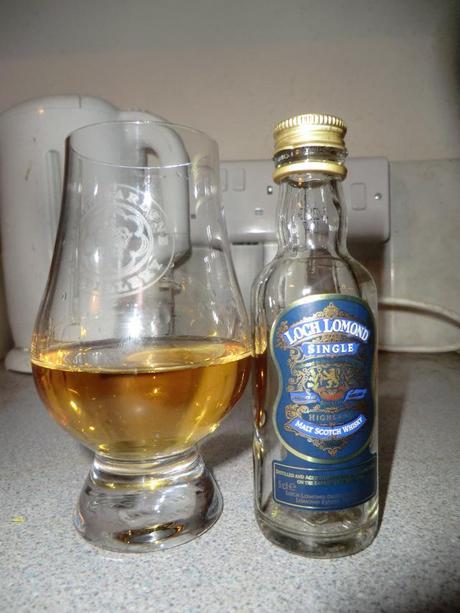 Loch Lomond: Single Malt (Scottish Highland Single Malt Whisky: No Age Statement: 40% ABV)
Visual: Gold.
Viscosity: Fast thick streaks.
Nose: Blended alcohol. Toffee. Apples. Honey. Fields. Water makes slightly menthol.
Body: Smooth and light. Apples in a crumble style. Malt chocolate. Barley biscuits. Honey. Some alcohol, but gently done. Water lets the apples really come out. Soft pastry.
Finish: Cardboard. Malt chocolate. Charred oak. Dusty. Dried apples. Treacle toffee touch. Chocolate liquore. Chocolate dust with water.
Conclusion: This is a very soft whisky. It is also somewhat light, but more so than that it is distinctly soft. It feels gentle and fluffy in texture and taste. I found this odd considering that the aroma could be a bit grainesque at times, but there you go. These things can surprise you. Even that harsh edge of the aroma soothes when you add water, bringing the elements in line.
It is a bit toffee, a bit apples, but not really toffee apples. Go figure. Matched by a mix of soft pastry and gentle malt chocolate. Oddly, despite the softness it doesn't really feel that easy to drink. The kind of fluffy texture into the dusty finish clamps down on any hopes of that, it just has a dry mouth kind of feel that doesn't let it slip down easy.
Still, it is mellow, especially with water. The base flavours are not heavy laid on, but are pleasant. The surrounding elements really give it some problems though; A mix of dusty touches, almost cardboard finish, and charring just don't go well. It makes the whisky feel slightly indistinct at times and ill focussed.
It has the makings of a gentle dessert style whisky, but not the class to pull it off. It is pretty inoffensive, but not memorable either. I will say that the very gentle nature with water may make it good for people who don't like the fire of some whiskys, but generally it is a whisky that doesn't quite click.
A gentle dram, but not *the* gentle dram.
Background: Ok, most entry level bottlings of whisky with no age statements try to build themselves up with a fancy name "rare select" or "coopers selection". In a way you have to respect this whisky for just putting "Single malt" and no fancy adjectives. Anyway, this was picked up from independent spirit, as part of a three pack of miniatures. Another chance to review some distilleries' whisky that I had yet to get around to. I have tried Loch Lomond before in pubs, but bar bottles can sometime not be held particularly well, so was unsure of how this would compare. This was drunk while listening to The Youngins. Yes I had played "Gone Home" recently, how could you tell? Also everyone should play that. It is short, but an excellent interactive story, using a game as the medium. No seriously, go try it now.