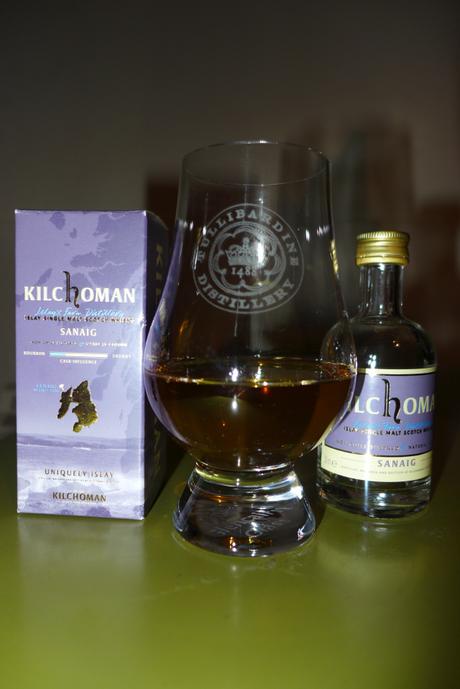 Kilchoman: Sanaig (Scottish Islay Single Malt Whisky: 46% ABV)
Visual: Rich deep gold with thick streaks from the spirit.
Nose: Smokey and peaty. Wet rocks. Salt touch. Big aroma. Brown bread. Kippers. Water adds vanilla and light apples.
Body: Smooth mouthfeel with caramel, fudge and vanilla. Warming. Beefy. Peaty. Stew character. Salt. Water adds apples with cinnamon. Sherried raisins. Nutmeg. Dried apricot. Oily.
Finish: Medicinal. Salt. Brown bread. Paprika spice. Dried raisins. Dry cake sponge. Malt chocolate. Light peat. Dry in general. Water adds cherries, sherry and now juicy raisins. Creamy coffee. Menthol. Caramel.
Conclusion: There is a nice mix to this – I'm going to break it down into its layers and examine each individually as there is a lot going on here.
On first pour you get a big booming aroma that you can't mistake for anything but Islay, and it is recognisable from metaphorical miles away from the glass. Classic Islay peat, smoke, salt and rocks all delivered thick and oily.
Drinking a sip keeps the thick character, but now with that peat expressed in a beefy style – layered over thick caramel and fudge notes. It is a dry sweetness, very chewy, very big and a great backing and contrast for the big Islay flavours.
The finish finally shows the story of the sherry influence – coming in as dry spice and raisins over the, still showing but now medicinal, Islay character. All of the levels has alcohol warmth, but the texture is luxury level smooth.
So, what can water do with this then? Quite a bit actually – soft green fruit and sweeter spice notes while the sherry influence ramps up nicely giving cherry and sherry notes into dry nutty finish. Well the finish was always quite dry – I forgot to mention that before. Forgive me please there is a lot to get through here. Anyway, compared to the chewy main body the finish is a nicely done dry underlying, drawing a line under the experience.
So, yeah, the fact I'm forgetting stuff while trying to get the notes done is showing how much this has going on – huge peat, big Islay, big sherry, yet with enough room to show the lighter notes. Big, but not so big that it becomes simple from overpowering notes.
It lacks only that "je ne sais quoi" to make it an all time great, but it is as good as you can get without that. Bloody nice.
Background: Another chance to dip into Islay's youngest distillery – not got much info on this one. It's a no age statement made with a mix of bourbon and sherry casks. Grabbed in ickle mini form from Independent Spirit so I could give it a try. So lacking in detail on the whisky – I listened to a collection of No Doubt's single while drinking this. While I didn't like all of the musical directions they took they were always good – just some of the tracks were not for me. When they were at their best IMHO was when they took on topics akin to the punkier scenes I enjoy so much, but delivered in such a way that it reached a much wider crowd without descending to the saccharine Spice Girls style "Girl Power" delivery. So there you have it.
Advertisements
&b; &b;