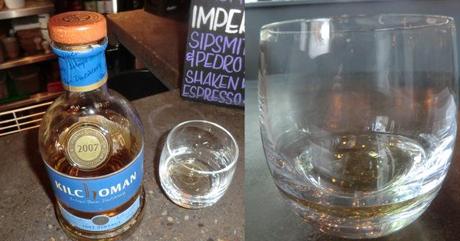 Kilchoman 2007 Vintage (Scottish Islay Single Malt Whisky: 6 Years: 46% ABV)
Visual: Greened grain. Very light in color.
Viscosity: Quite fast thick streaks.
Nose: Dry earth. Peat. Astringent.
Body: Beef stew. Golden syrup. Peat. Sweet lime. Dried banana. Smooth. Charred oak. Water softens and brings barley, malt chocolate, some peat and energy still, and a tar like touch.
Finish: Dry. Smoke and warmth. Sweet syrup. Maybe a raspberry syrup like touch at one time? Possible psychosomatic. Peat. Beef slices. Malt chocolate. Salt. water adds a custard sweetness.
Conclusion: The newest Islay has always impressed me in prior encounters, and here is the first time I have managed to put the impressions of being impressed on indents (or impressions if you like) on the paper.
It is a whisky that really shows the Islay character, you can feel a barley like texture running across the tongue, the smoke rising, and a robust peat warmth the builds up inside you. It doesn't just define itself by the expected character though – there is a mix of sweeter notes from dried banana to several sweet syrup notes, and they give a more subtle set of lower notes that back against the big Islay beef broth of the main character. The subtle elements are what makes it stand out from the pack.
It is still a booming whisky, especially neat, yet for all its youth in years it manages to give you all of the warmth and yet none of the fire. Even at this point it is showing very distinguished characteristics, and that bodes well for the future. It will be interesting to see what happens, as in later years peat tends to drop slightly, and I wonder how the lighter elements will progress.
This is balanced, big, intricate and evolved. The barley character grounds it, and gives a texture you don't see often with whisky these days, the peat lets it boom and the sweetness lets it mellow. A great whisky already, and a promise of special things ahead in the years to come.
Background: Bottled 2013. With this I get to call full house on Islay bingo. I have now reviewed one expression from each distillery there. Which was not the reason I bought a measure bit it didn't hurt. I've tried a few Kilchoman's at whisky shows over the years, but have yet to do a review from this, the newest Islay distillery. A quick bit of research shows that the distillery not only does its own floor malting, but also has all parts of the process from growing to bottling, on Islay itself. Yes by research I mean "I looked on wiki". Yes, I know that doesn't count. This was drunk at Brewdog Bristol in their new, slightly rolling tumbler glasses.