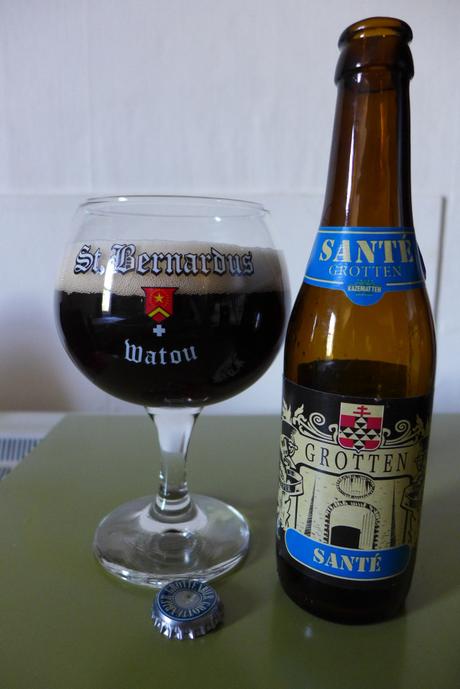 Kazematten: Grotten Sante (Belgium: Belgian Ale: 6.5% ABV)
Visual: Dark brown to black. Large brown small bubbled fizzy head.
Nose: Yeastie. Wheaty. Gentle raisins and sultanas. Clean hop bitterness. Still cola. Crushed stones. Minty and menthol.
Body: Fizzy. Earthy bitterness. Cola bottles. Charring. Sour dough. Cloying touch. Slightly mint. Chalk. Raisins.
Finish: Cola bottles. Charring. Earthy bitterness. Cloying cream. Sour dough. Palma violets. Menthol.
Conclusion: Ok, I remember loving this beer while it was in St Bernardus' hands. Either my memory is shitter than I thought or Kazematten have really driven this beer into the ground.
It is a surprisingly fizzy feeling beer – and filled with a lot of rough flavours along with that. There's chalk, crushed rock and earthy hop bitterness -with the rougher edges of these dominating. You get hints of some of the raisins I remember before, but that is the only call to dark fruits that you get – I would expect much more from a Belgian dark beer. Instead it manages some flat cola notes, which really aren't a fair trade off for what you are missing.
There's even some menthol, greenery and minty notes that would be refreshing if there were more heavy notes for it to work off and refresh from. I mean it does give relief from the charred character, that much is true and good, but usually these fresher notes work well against heavy hop bitterness or sweet notes to prevent them from becoming excessive. Those things just aren't present here.
What I once viewed as a favorite seems to have become a genuinely bad beer in new hands. Bad in itself, doubly bad compared to what it once was.
Background: This was a beer made by St Bernardus for many years under the name Grottenbier – after the original brewer sold them the rights. This seems to be the new home for it with Kazematten. I'm unsure if the grottenbier is still being brewed by St Bernardus, or if this has replaced it. Any which way – a beer aged in cold caves for an extended period of time. The grottenbier is currently one of my favorite beers I have never got around to doing notes for, so I hope this one holds up to that reputation. Grabbed from Independent Spirit, this was drunk while listening to Brassick's album – some great punk tunes.
Advertisements