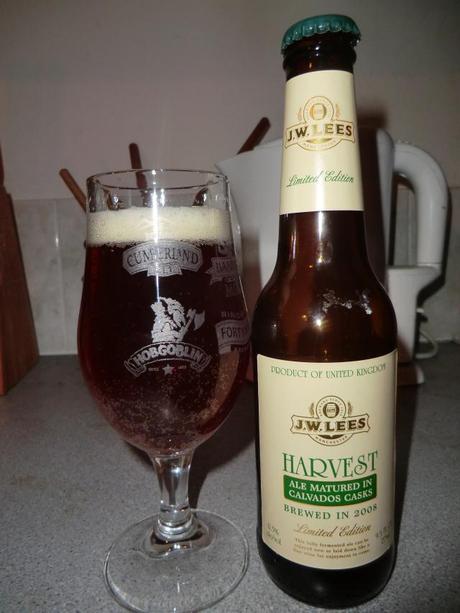 JW Lee: Harvest Ale: Calvados Barrel Aged 2008 (England: Barley Wine: 11.5% ABV)
Visual: Burnished reddened gold.  Browned head. Some sediment in the pour.
Nose: Plums. Apple pie. Calvados. Fruitcake. Very thick treacle. Custard slice. Dried apricot and glacier cherries.
Body: Very sweet. Cherries. Pineapple chunks. Treacle tart. Sugared apple pie. Juicy white grapes. Jelly babies. Sweet banana – banoffee pie. Thick and syrupy like cherry ice cream syrup.
Finish:  Sugared pastry. Apples and cherries. Grapes. Malt biscuits Custard slice. Tobacco.
Conclusion: This is sweet, like dessert wine sweet. Like calvados and sugar shock sweet. Desserts in a blender sweet. So, erm, yes, sweet.
That isn't to say it isn't nice, or that it is simple. It is thick from aroma to texture to finish. It is syrupy and fills the mouth and nasal cavities with everything it had. The classic JW Lee Harvest Ale flavours are in there but the more heavy characteristics such as smoke and tobacco are, for the most part overpowered by the sweetness imparted by the calvados.  There is still many different flavours but they are all balanced towards the sugary end of the spectrum. The tobacco, for example, only shows itself right at the end in the finish.
The original Harvest Ale was an excellent beer, and is the better beer of the two.  It had its own distinct imagery of smoking rooms and brandy snifters. This does have imagery, but it is more birthday parties and excessive Jelly. It is still fun, but doesn't hold the attention as long. More brash and up front. A short burst of fun that would overstay its welcome in larger bottles.
It is still impressively tasty and well worth taking the time to examine. There is a heck of lot going on in there from fruit to sugared pastries to many apple flavours.
The over exuberant cousin of the Harvest Ale and shamelessly fun.
Background: From what I can tell the calvados aging on this is under a year, so with the beer being brewed 2008 and drunk 2013 that is some serious aging. Not that I am a stranger to aged JW Lee Harvest Ale as I have run into several versions before.  I am a fan of calvados aging so snapped this up when I saw it. Strangely enough it was a beer found during the road trip of awesome. Yes I did comment on being able to find in the USA a beer that I have never seen in England where it is bloody brewed.