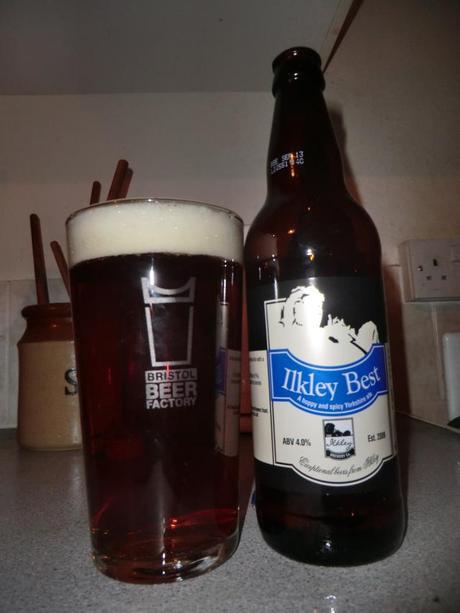 Ilkley: Best (England: Bitter: 4% ABV)
Visual: Clear copper red. Large sudden froth for a slightly yellow head.
Nose: Cinnamon and coriander. Dry roasted peanuts. Orange peel. Slightly earthy. Custard notes.
Body: Quite bitter. Lemon zest. Earthy. Soil texture. Ginger spiciness. Chalk. Cinnamon sweetness. Cherry and malt base. Fruity.
Finish: Earthy hops and soil. Lemon meringue. Ginger. Quite bitter. Tangerine and pear drops.
Conclusion: This is a robust pint. Seriously robust. An earthy, dry and lightly spiced aroma comes across as pretty standard, but that first sip you take has a real bitter weight to it.   There's the earthy hops and that slight soil of the British style but braced against fresh lemon zest that just cuts through to make itself shown.  Hold it a while on your tongue and you get a whole cherry and cinnamon sweetness rising.  It's a great show as I often find overly earthy hops dull but this shows how to do it well by bringing an equally powerful set of countering flavours to them all together into a full bodied ale.
The beer does a lot of balance like that, dry and slightly chalk with redeeming sweetness. Bitter versus malt base, earth hops verses zest.  There's spice and ginger elements as well but never too strong, just pushing the beer out into a bitter spicy finish that isn't hugely complex but definitely lasts.
For a beer with such a non eye catching label to the bottle it certainly catches the taste buds and comes in as very thirst quenching. It is just slightly tart, solid and bitter with very good complementary flavours. I am genuinely impressed.
Background: One of the beers my family had got in for me while I was visiting over Christmas. I hadn't drunk it by the end so brought it home with me. This is a beer from Yorkshire. I am mildly biased with regards to Yorkshire. In that it is automatically better than anything in the south.  Ok, I think my biases are up front enough now.  This was the last review to fit in my last notebook.  An end of another notebook era. While drinking this I realised I haven't actually had a bad beer for quite a while. This is a good thing.