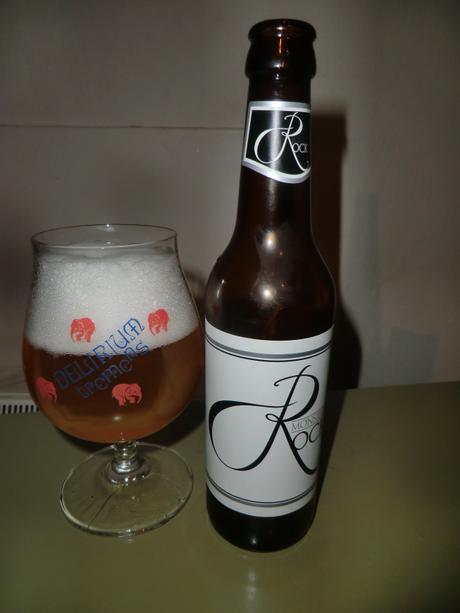 Greenbrew SPRL: Monsieur Rock (Belgium: Belgian Ale: 6.6% ABV)
Visual: Very pale yellow. Large mound of white crisp bubbled head. Moderate carbonation. Clear body.
Nose: Quite funky. Sulphur notes. Lemon.
Body: Coriander. Spritzy. Sharp lemon. Kumquat. Funky yeast. Puff crisps. Very frothy feel. Mature cheese.
Finish: Carrot. Musty. Cheese puffs. Bitter hops. Cheddar. Pepper.
Conclusion: I dub thee. "Cheese Beer". Hey, don't blame me, all the good beer names were already taken. It could be from the funky Belgian yeast maybe, but this has a real strong Cheddar element going on. It took me a while to get used to it, but it turns out the beer doesn't suck.
I mean that as a compliment by the way. I know it can be hard to tell sometimes.
As I said, it took me a while to get a grip on this beer. The aroma isn't the most forthright and the first sip came in very spritzy up front, then very frothy as it developed. It felt like a lot of the elements seemed to mingle in the midst of that froth cloud, making them hard to discern individually.
It feels kind of half saison, half Belgian wit in how it comes across – with a bit of the Orval style yeast effect dusted over the top. That last one may have been psychosomatic. There is a lot of the saison rustic character, hop feel and, yeah the yeast. From the Belgian Wit comes that carrot and spice stylings. The real mature cheddar elements are right there in the middle.
It merges pleasantly, and I'm thinking it would go well with some savoury snacks. The pepperiness makes for a good finish after the cheese character. In fact a lot of the elements seem to have built around the cheese as a base.
By itself it gets a bit one note quickly – it is definitely interesting for the first few moments, then kind of samey. However I have a hunch that it you find the right food complement it would shine. Something savoury, maybe crackers. May be worth an experiment but doesn't stand up on its own.
Background; I ummed and ahhed over where to place this – it is contract brewed by Meantime in the UK, but the brewers are based in Belgium. They are apparently awaiting building of their own Brewery. In the end I plumped for Belgian, it seems to fit closest with my picks for past contract brew work. Jean-Marie Rock, one half of the team was associated previously with the Orval brewery. Which I will admit is what convinced me to give a try. Picked up from Independent Spirit. Drunk while listening to the classic album Mezzanine by Massive Attack. mainly for "Angel" – that song is amazing.