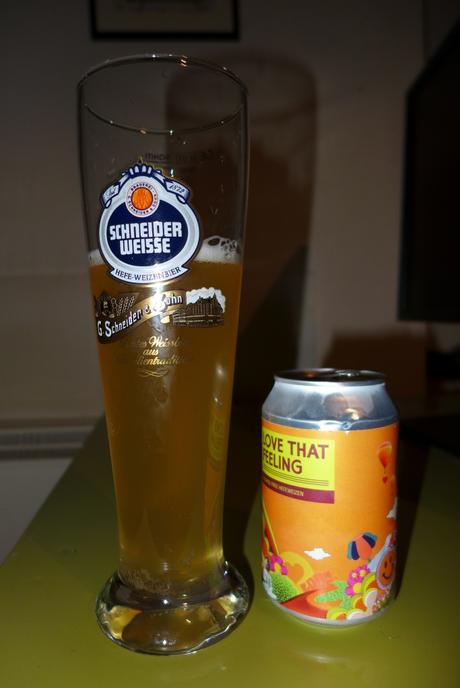 Good Karma: Love That Feeling Hefeweizen (England: Low Alcohol: 0.5% ABV)
Visual: Pale lemon juice coloured, just slightly hazy clear body. Very thin white head.
Nose: Lemon juice. Creamy. Cinnamon. Scones with strawberry jam and cream. Scones with raisins. Slight wort mash. Fresh sour-dough.
Body: Orange zest. Lightly creamy. Cinnamon. Strawberry jam on scones. Sweetened lemon juice. Traditional lemonade. Slight sulphurous dough. Greenery bitterness.
Finish: Lemon juice. Strawberries and cream on scones. Orange juice. Traditional lemonade. Iced tea.
Conclusion: First things first, this doesn't really taste like a hefeweizen. On the other hand it does taste reasonable. It tastes kind of like a fruity cream ale but with some low alcohol tells. Which isn't the worst thing it could have been.
So, what elements are there that do seem hefeweizen like? Well there are lemon and orange citrus notes, albeit in a sweeter way than a traditional weisse. There is some bitterness but very gentle, also tiny hints of a wheaty character but nowhere near standard weisse levels. Similarly it is quite clear of body for a hefeweizen. It isn't quite krystall weisse looking on the eye, but still pretty clear.
What it shows mostly though is something very different – a creamy character and the most odd scones with jam and cream style. Not unpleasant but deeply unusual. It is an enjoyable, creamy, fruity thing that seems closer to a cream ale than a hefeweizen.
There are low alcohol tells that show over time, most notable the iced tea like character. However since the beer already doesn't feel much like its designated style, and the flavours match the thing it actually it, it doesn't hurt the beer that much.
A bit odd, with nice and unusual flavours. A beer that manages to miss its intended style so much that it ends up as a reasonable example of a different one.
Background: This is another one from the Light Drinks batch I ordered of low to no alcohol beer. Good Karma list themselves as "We're part of a culture shift towards a more sustainable, diverse and equal society." I don't know any of the details but I applaud the sentiment. They also say they " brew beers that are made traditionally without any unnecessary fancy processes or even need any additions like lactose.." which must make it especially hard to make low abv beers, so I respect their dedication as they are really make life hard for themselves. Apart from that this is my first encounter with them so not much to add. No music this time, notes were done while chatting with friends,and sharing my thoughts on the beer live.