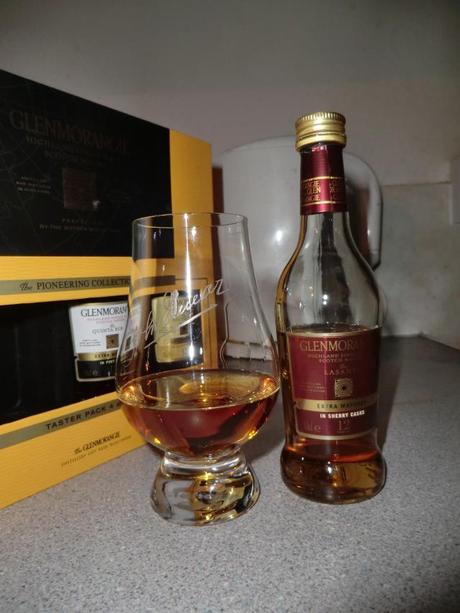 Glenmorangie: Lasanta (Scottish Highland Single Malt Whisky: 12 Years: 46% ABV)
Visual: Deep burnished gold.
Viscosity: Fast thick streaks evenly set around the glass.
Nose: Marzipan. Almonds. Bitter red wine. Blueberry pie. Pencil shavings. Raisins. Toffee.
Body: Slight fire. Heavy oak. Spicy. Rum and raisin. Strawberry. Bitter red wine. Water smoothes and sweetens. Golden syrup and strawberry mix. Sherry trifle and brandy cream.
Finish: Light oak. Malt loaf. Milky chocolate. Red wine. Dry. Water adds strawberry and bitter chocolate. Brandy cream and chocolate fondue.
Conclusion: People who say water should never be added to whisky are wrong and this whisky proves it. Admittedly for certain, loosely defined and warped meanings of proves, but still.  You get the point.
Without water it is quite dry and very oak dominant. A bit fiery with the alcohol and the extra aging shown mainly in bitter red wine flavours. I wasn't too disappointed as I wasn't expecting this to be as exciting as the other miniatures in the selection, but let's just say praise was not forthcoming.
Then I added water.
Smoothed out the fire instantly, trifle flavours came out and strawberry elements spread their wings.  Lashings of brandy cream as well. Still mouth drying but now with the flavor to justify it. Rich and slightly spicy like rum and raisin elements, elements that had always been there but now turned up a notch.
So is it great? No. Not a patch on Finelta or PX. It is basically a brandy cream and trifle tweak on the ten year old. It shows the same benefit of wide appeal but has the same flaw of not being risk taking.   This expression does bring more to the table and is better than the ten year old, mainly through the good use of brandy cream flavours to add extra weight. So very enjoyable, but not up to the superlative of great.
A spiced up take on the ten year old, to be taken with water or not at all I say!
Background: Lasanta which apparently means "Warmth and Passion", or so every website says when I searched for it. Looked like they all cribbed it from the bottle though so if that's wrong we are all screwed. This little set of whisky bottles looked nice. Four 10cl bottles at a reasonable price, a chance to try a wider set of the Glenmorangie range.   Standard Glenmorangie I found ok, but some of the varied bottling I've tried over the years have been excellent.  This 12 year bottling has spent two years of that in Sherry casks to finish.  As sherry is a common barrel choice for aging whisky I don't expect this to be as unusual as the other two bottlings, but who knows? Drunk while listening to the new album "Delirium" from 4bitten, who I had seen live as a warm up act at the band UFO's music gig the day before.