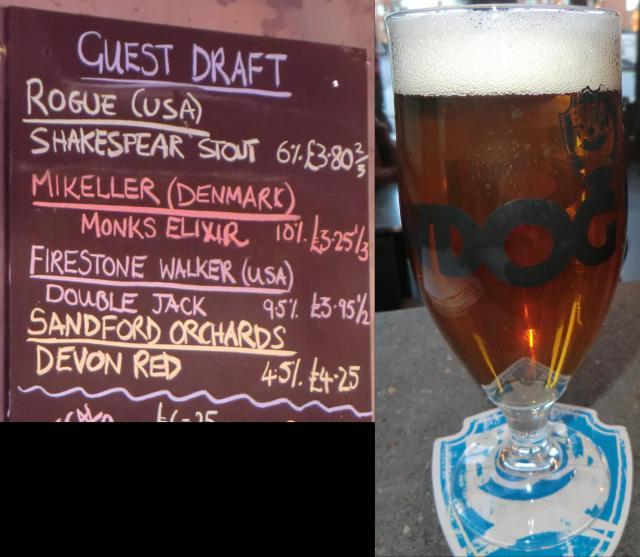 Firestone Walker: Double Jack (USA: IIPA: 9.5% ABV)
Visual:  Clear gold. Quite frothy head, but settles quickly leaving dregs around the edge of the glass. The head itself is an off white color.
Nose: Creamy with a slight lime cheesecake or key lime pie. Caramel. Hoppy character but mainly sweet. Dried apricot.
Body: Big apricot sweetness and low hop bitterness initially, though it quickly rises. Toffee malt. Custard,
Finish: Good bitterness. Fresh lime. Shortbread. Custard. Kiwi and apricot. Slight dry granite feel.
Conclusion: So after the stupendous Union Jack, I was eager to try this. Double IPA, double the fun? Well this one follows in Union Jacks footsteps quite closely, but comes in creamier and slightly more closed off. The flavours are heavier and more noticeable, but at the cost that some of the lighter notes are lost.
Now that isn't to insult the beer, the flavours are still very good with calls to the more unusual citrus notes that Union Jack had so well. The key lime pie styling are here and still excellent. The only issue for me is that they don't roam as much and the dry finish cuts off more quickly giving less time to just savour it.  Again to emphasise, these are only criticisms in relation to Union Jack. As a beer in itself it is forthright, oddly mellow in bitterness until a sudden punch at the end, and a good mix of apricot and citrus. Frankly not a beer you will ever regret drinking.
Overall a very nice double IPA, powerful and yet smooth, and very creamy giving an ease to it's alcohol. Probably dangerously easy to drink, but does at least give a hint to the abv behind the punchy flavours. Another good beer from Firestone Walker that only suffers in comparison to their own, better, beers.
Background: After a recent review of Union Jack, G-Lo mentioned Double Jack was also worth trying. Then this turned up at Brewdog Bristol. How could I not try it?  I had a nice chat with one of the staff members at the pub while I was drinking this, he was explaining about how the linked casks method of brewing this was first used in Burton (of burtonisation fame) the linked cask allowed the beer to be poured from a single tap at the end, and the smaller casks allowed a large amount of liquid contact to give the smooth taste. Which I had been wondering around for a while, so that was cool. Thanks.