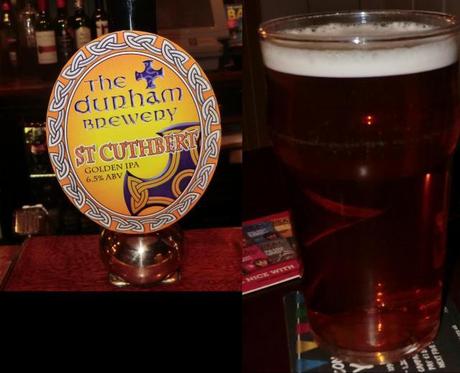 Durham Brewery: St Cuthbert (England: IPA: 6.5% ABV)
Visual: Clear still gold. Yellowed bubbled head.
Nose: Light lemon. Musky hops. Wheat fields. Slightly milky.
Body: Lime. Good bitterness. Crisp. Orange marmalade. Tart yet bitter. Tart grapes. Vanilla. Pineapple.
Finish: Key lime. Oatcakes. Big bitterness. Sour grapes. Long lasting bitterness.
Conclusion: Golden IPA. Golden IPA. We are getting very close to the IPA adjective saturation point now. We have white, black, adjective less and now golden IPA. Hopefully this one promises another interesting twist on the well worn IPA style. Well it does bring big elements of tart fruit behind the roaring bitterness. Admittedly this is not unheard of since, say, the Nelson Sauvin hop exists, but still it makes a good base for a beer.
This however is slightly soured as well, sour grapes and tangy lime. The real ale character really giving the elements grip and room to twist expectations. The same texture make the hoppiness much more clinging, and thus the slight sourness is used to make the large bitterness more manageable.
The main flavor mid body is a large marmalade middle. It pushes out from amidst the other elements and emphasises the sweeter elements in a much needed way, thus you gain a slight notable vanilla element, and it all rises to become almost cloying sweet by the end. There isn't an element here that doesn't try to make an impact. It does mean that elements can outstay their welcome, and the hops in the finish can overcome the sourness to be slightly clingy, but impression are generally good.
Together the elements make and enjoyably punchy and different beer. I can't imagine having more than one as it is so much a beer about pushing elements to just before they get annoying, so is a beer to have one of and enjoy for that time. So, for this fruity tart character beer I would say it is worth adding the extra adjective.
Background: The beer style was an odd one for this, the tap handle calls it a "Golden IPA", rate beer calls it an "English Strong Ale". I tend to lean towards what brewers call it and evaluate it as that, so I have listed in under IPA. This was drunk on cask hand pull at The Raven, a fine wee tavern, and was drunk as warm up to a few games of "Cards Against Humanity". So the night in general was fun.