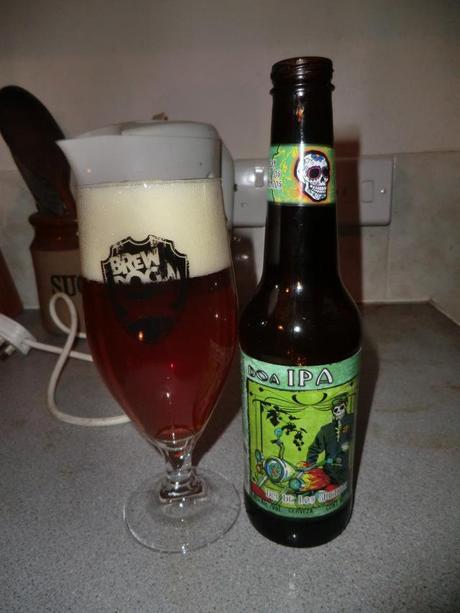 Cerveceria Mexicana: Dia De Los Muertos: DOA IPA (Mexico: IPA: 6.8% ABV)
Visual: Hazy apricot. Middling carbonation and a mounded slightly yellowed inch of head that leaves lace.
Nose: Vanilla. Apricot hops. Custard cream biscuits. Condensed cream.
Body: Digestives. Toffee and malt. Liquorice. Lemon sherbet. Some bitter hops. Guava. Thick creamy feel. Apricot. Custard doughnuts.
Finish: Liquorice. Toffee. Popcorn feeling hops. Digestive biscuits. Passion fruit. Treacle. Bitter. Apricot.
Conclusion: This is very malt driven for an IPA. Maybe it is just due to the time the beer must have taken to reach the UK, but the toffee malt base gets much more presence than the hops. I'd guess it is part of the beer itself, as most USA hop fests I've had have not been impacted that badly by the journey.
There is still a good bit of hop flavour, and there is a reasonable level of bitterness, but the beer eases them out rather than punching them straight at you. Maybe that is a good thing for some people, maybe I'm just an overexposed hop head, but I do like my IPAs big and brash. Though I will say that the lower hop presence does synergise well with the thicker, creamier texture to create a slow growing bitterness. Possibly with this texture a heavier hop hit would soon have become sticky. The texture also smooths and rounds out the fruit favours well.
It feels closer in style to the IIPAs, much more sweetness and a bigger texture than a standard IPA. It does come with some oddities that aren't as complimentary though, with liquorice touches main body and treacle in the finish, neither of which integrate well.
Overall it is tasty, if not particularly hoppy. As a beer it is a reasonable enough standby and enjoyable, it just doesn't feel that much like the IPA it calls itself. Again, it could just be a freshness issue, but it still doesn't bode well. I wouldn't put it top of the pile to try, even though its more IIPA stylings are interesting. So reasonable, but not exceptional.
Background: Ok, I don't know much on these guys. I saw a bunch of their stuff in "Independent Spirit" and thought I'd give it a try. Strange thing is, they look like a little craft beer company out of Mexico by the bottles, but a quick search on Cerveceria Mexicana makes it look like they are a pretty big brewer and do contract brewing work. Now this says nothing about their quality, but I found it interesting. Looks like everyone wants to be seen as craft these days. I went with an IPA as that is pretty much my go to for seeing how I will get along with a new brewery.