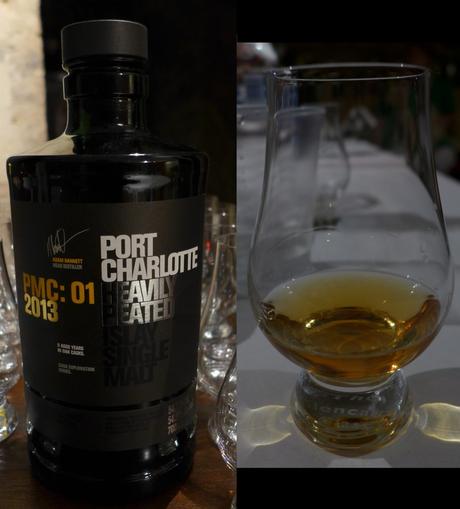 Bruichladdich: Port Charlotte PMC: 01 2013 (Scottish Single Malt Whisky: 9 Year: 54.5% ABV)
Visual: Very deep lucozade to gold color. Slow medium thickness streaks come from the spirit.
Nose: Germolene. Stewed apricot. Light smoke touch. Water makes more sooty with a sulfur touch.
Body: Thick alcohol weight and character. Butter. Charring. Water makes more golden syrup like. Stewed apricot. Dessert wine. Greenery.
Finish: Smoked meat. Peppery. Water makes for spiced rum. Golden syrup cake. Dessert wine. Apples. Greenery.
Conclusion:This is a very sticky, heavy dram. Initially it was slightly closed. It is an oily, medicinal cream aroma dram with strong peat there, but it takes time to show itself. On my first sniff I had forgot it was a Port Charlotte as the smoke was very restrained. This did not last.
It is a comparatively simple whisky, despite is interesting dual aging. It is heavy on the sweetness to go against the peat. Very golden syrup like in flavour, and the wine barrel aging seems to have brought an intensity of character which, while pleasurable, seems to have locked out the possibility of a lot of the lighter flavours.
As a dram it is solid, very dessert wine like, which I think is unusual as I don't think that is Pomerol wines character. This bit is outside my area of expertise, but I am fairly sure it is not one. Anyway there is also a spiciness that reminds me of some rum influence there and greenery for more savoury style which gives a bit of range. However compared to some of the other whiskies on the tasting it did not feel as open and easy to appreciate despite being good quality.
Solid, but not the best for the money. Possibly the best color of the night though.
Background: Port Charlotte, the heavily peated take on the Bruichladdich spirit. This was the second of the drams on display at the recent Independent Spirit Bruichladdich Tasting. This version has spent half its time in bourbon casks, then the latter 5 years in Pomerol wine casks. I don't know much about Pomerol, so was going in a bit blind on that. These notes were actually done in two parts as the third dram came out before I had time to finish taking notes, so came back to it later to add some more thoughts. Thanks to everyone else at the tasting whole helped me remember the word germolene which I was struggling to bring to mind for these notes. As always with tastings like this I could not take all the time I wanted, but did my best to get some good notes down.