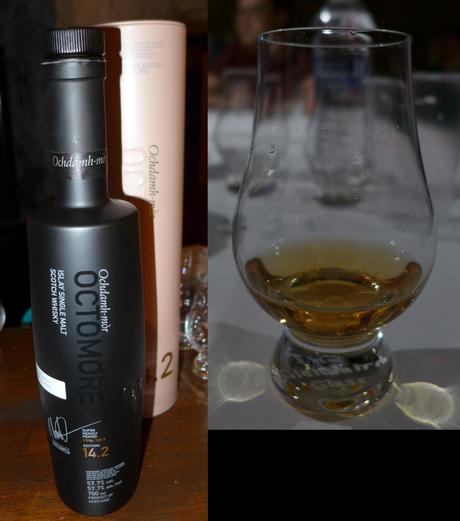 Bruichladdich: Octomore 14.2 (Scottish Islay Single Malt Whisky: 5 Years: 57.7% ABV)
Visual: Rich dark gold with fast thick streaks from the spirit.
Nose: Honeyed. Dessert wine. Oily. Stewed apricot. Redcurrant. Oily smoke. Butterscotch. Water adds greenery and drier smoke.
Body: Honeyed. Clinging. Smooth despite that. Turmeric touch. Sooty smoke. Water adds custard. Barbecue sauce. Cherries. Redcurrant.
Finish: Soot. Honey. Oily peat. Redcurrant. Numbing after a few sips. Light fish oils. Water makes more peaty and oily. Blackcurrant. Cherries.
Conclusion: This is more easy going than I would expect for an Octomore, which is not actually easygoing, but it is a far easier dram to get into than the 14.1 was.
It is more oily, easing the dry character and fruitier with occasional red and dark fruit really rounding it out. This is peaty, but the oily way it is delivers soothes it from its incredibly high ppm.
There is a lot of thick, oily flavours – a butterscotch sweetness, stewed apricot and red fruit as just of the stand out examples. If the 14.1 was the stripped down clean version of a peat bomb, this is like the full circus of bells and whistles, all the showing off from the barrel aging adding to the peat.
The only down side is, as referenced, the peat is less evident – still evident – just less so that your average Octomore. So if you are just here for the peat the 14.1 is probably more to your style. This instead is the full bodied and showy Octomore. Neat it still has some of the numbing intensity, but water brings a wonderful balance to that side of things. By this point there is so much red fruit, sweetness and peat that it is amazing to try.
So, the showy Octomore and very much enjoy what that brings.

Background: I wasn't sure if I was going to notes on this one – it was the fourth drink at the recent Independent Spirit Bruichladdich tasting, after several high abv and high peat drams. I was not sure if I would be up to doing any even vaguely coherent notes on so many peaty drams together. However when time came around I decided to give it a shot. This is again 128.8 ppm and made with 100% Scottish grown Concerto barley. The *.2 expressions of Octomore used to be duty free only, but since lock-down they seemed to have lightened up on that a bit, so this was available for the tasting. The unusual change this 14.2 expression has is that it was aged in a mix of Amaroni and olorosso casks – both separately aged for 5 years then mixed together.