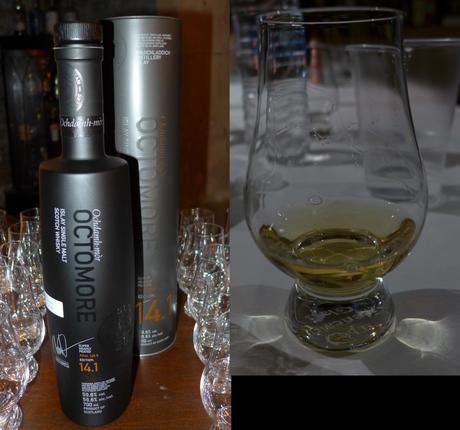 Bruichladdich: Octomore 14.1 (Scottish Islay Single Malt Whisky: 5 Years: 59.6% ABV)
Visual: Pale yellow gold. Fast thick streaks come from the spirit.
Nose: Dry smoke. Soot. Germolene. Spirit. White grapes. Water makes more sooty.
Body: Smooth and oily. Peat. Quickly becomes burning if held in mouth. Clotted cream. Toffee. Water adds more clotted cream. White chocolate. Liquorice touch. Toasted teacakes.
Finish: Oily peat. Smooth. Vanilla. Germolene. Numbing alcohol. Charcoal. Water makes for clotted cream again. Numbing peat. Light chives. Liquorice touch
Conclusion: This is such a clean yet sweet peat bomb. Initially it has a slight medicinal cream character in the aroma along with sooty dry smoke so I was surprised to find out on drinking that it seems so smooth. Well initially so smooth, if held on the tongue it rapidly becomes numbing between the alcohol and peat such is its punch.
Water helps manage that intensity – it is still tongue numbing over time, but with much sweeter notes coming out – more clotted cream, white chocolate. Still intense but now with contrast (and definitely it is contrast not balance, this is unbalanced as heck).
There is lots of bourbon influence providing those sweeter notes, lots of peat. In a way this feels like the purest, cleanest, expression of Octomore I have had. Less range, but just delivering the Octomore promise as plainly as possible. The oddest, non standard element it has is a touch of liquorice that shows late end that doesn't really work or match the rest of the style, but doesn't particularly hurt it so can be easily overlooked.
This is very polished, very intense, very clean and very. Not the fanciest but a great example of exactly what an Octomore is
Background: Octomore, the incredibly peated Bruichladdich expression, in this case 128.9 ppm, and this was just the middle dram of the Independent Spirit Bruichladdich tasting, so fear what comes after this! This is made with all Scottish grown Concerto Barley and was aged all in first fill American oak – which I think is standard for the point one versions of the Octomore, they tend to be the standard Octomore releases. By this point I had drunk some darn alcohol heavy drams, so notes were starting to get less coherent but I did my best.