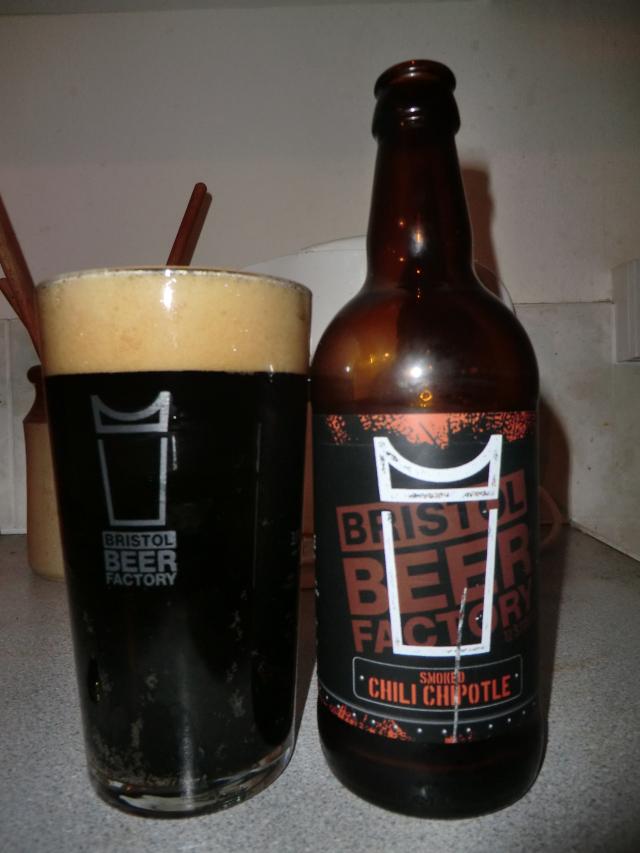 Bristol Beer Factory: Smoked Chilli Chipotle (England: Stout: 5% ABV)
Visual: Black, an inch of caramel froth. Still.
Nose: Chilli seeds. Dry roasted peanuts. Cocoa. Milky chocolate.
Body: Smoked bacon. Warmth. Distinct chilli heat. Cream cheese. Malt chocolate drinks. Smoke. Meat trays. Slightly sweet chocolate. Pepper.
Finish: Dry chilli seeds and warmth. Smoke. Cured bacon. Chipotle and greenery.  Light touch of black cherry. Barbecue sauce. Pepper.
Conclusion: It's always a hard balance with chilli beers. Too little and you might as well not have bothered. Too much and it's undrinkable for most of the audience. This does and odd wee dance to settle between the two.
At times, during the smaller sips, the chilli is intense. Larger mouthfuls and you get more of the stout below – all chocolate and smoke with smoked meat flavours roaming through.
There is then a warming lip tingling finish. It's not lava but either way, small or large sip, you will get heat. You just get to pick when and how.
The chilli of choice here gives it's own distinct character. Very dry, and gives an almost smoked barbecue sauce take to the whole beer. A mix of slightly tangy and smoke which is quite appealing. It's all balanced pretty well, quite warming for a non chilli nut like me, bit survivable and gives good play to the beer.
The beer underneath is a solid stout as you would expect from Bristol Beer Factory. Lots of chocolate, and with that cream cheese oddity that is used to keep it fresh. Surprisingly closed aroma, with barely even a hint of chilli, let alone anything else.
So I'd say a good beer and a good balance, with a barbecue and smoked meat character. The extra flavor put sit head and shoulders above last years chilli stout.
A tad warm for me, but I'm not a huge chilli fan, still a solid beer and nowhere near excessive. Pretty nice.
Background:  Another of the twelve stouts of Christmas, the 2012 edition.  I used to be a big chilli nut, but prefer the more mellow ones these days. Maybe I'm getting old.  Frankly I  look forwards to these now yearly events as BBF do great stouts, and the extra twists are always fun.